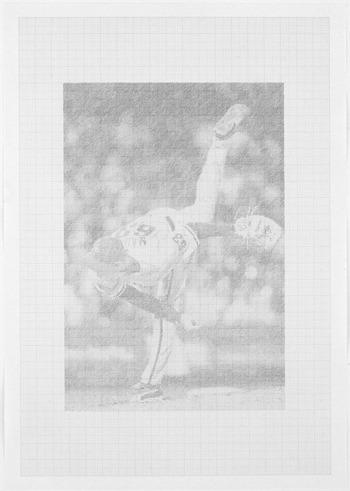 This is how
Lora Reynolds Gallery
introduces Ewan Gibbs's show
Pictures
of Pitchers
: "eight new graphite drawings, the subject of each is a
baseball pitcher
captured at the moment just after the release of the ball."
<sarcasm>Sounds fascinating, doesn't it?</sarcasm>
That's what I thought. I was sort of dragged to this show against my
will. Fortunately I have friends who have learned this lesson better
than me: Lora Reynolds Gallery puts on really good shows. These
drawings are stunning. Gibbs constructs these images on graph paper
from "thousands of individual hash marks that coalesce to create a
drawing
that is at once infinitely detailed and resonates as a whole." Go read
the press release
here,
because another thing Lora Reynolds
Gallery does is write fantastic press releases.


It's really difficult to tell from JPGs how detailed these drawings are. Pixellation is not kind to these pieces…
Since I'm quoting heavily, I'll spread the love. Grace Glueck, in a
New York Times review
of Gibb's first US show waaaaaaaaay back in January of 2000 at
Paul Morris Gallery
,
wrote that Gibbs's "black-and-white images seem veiled by a hazy
screen, giving the viewer
information that's tantalizing but not quite enough to bear witness to.
Like a
Chuck Close
painting, they become more readable as you back away
from them." Stephanie Cash, inthe April 2000 issue of
Art In America
hit it on the head
: "The methodical process and careful attention that
Gibbs has devoted to
his work belies the banality of his subject. This contrast is precisely
what makes his work so intriguing. It takes a measure of artistic
fortitude to lovingly depict the ordinary, and ample skill to finesse
it into quietly seductive works of art."
If you want to find out a little more,
here is an interview with Gibbs
from
All The Best
, "an online guide to stylish living."