Since the closing of Gray Matters and the migration of David Quadrini to QED
in Los Angeles, space has opened up for new galleries on the Dallas art
scene. Visiting some of these and talking with the creative directors
about their visions for the spaces they have created, I see the Dallas
scene growing in all directions.
First on the tour is
Road Agent Gallery
. Director/owner Christina Reese, a native of Dallas who has written about the art and music scene, was expansive when discussing her slate of artists and the construction of her gallery next to
Barry Whistler
in Deep Elum. The space is small, but efficiently designed by her husband, British painter
Richard Patterson
. With a finished out ceiling making it a white cube, neutral in all respects, Road Agent is perfect for the high gloss work of
Evan Daniel Lintermans
, whose austere mountaintop landscapes, painted on the back of Plexiglas sheets in monochrome blue and red, are part of the gallery's first exhibition.
MB: When did you first glean that you wanted to open a gallery?
CR: I was first exposed to art dealing on a personal level when I moved to London with Richard [Patterson] and got to see Anthony D'Offay and Sadie Cole at work, then moving to New York and watching James Cohan. It was a fascinating operation. That's when I first realized that it wouldn't necessarily be such a bad thing to actually represent artists. D'Offay and Cohan have completely unique styles of running their respective galleries.
MB: It's an art in itself.
CR: I came back to Dallas to be an editor at D magazine, and I'd been away long enough to realize that I wasn't interested in covering or being in the music scene. But I was still very interested in the art scene. And then David Quadrini asked me to come work for him at exactly the right moment.
MB: Would you have worked at any gallery in Dallas to get some experience?
CR: My first choice was Angstrom. At that point I was already in my 30s, and I had to think: how long am I going to work in someone else's gallery before I learn the business? I thought I would be working for years before I opened up my own gallery. Then circumstances [Quadrini's moving to Los Angeles and starting QED] forced me to open a gallery sooner than I thought.
MB: Who are some of the artists you're going to show? Local artists? Coastal artists?
CR: First is Evan Daniel Lintermans along with James Christopher Case, then in April Bradley Brown. We'll be showing both local artists, artists from New York and hopefully some international artists.
I next made a trip to
Marty Walker Gallery
in the design district on 2135 Farrington St. Having seen the space before in its rough state, I was surprised to come upon a modern gallery façade tucked way in an unlikely location at the end of the block. Wondering if this might become a new gallery nexus far from the node around Deep Elum, I entered and found a larger space than Road Agent. This gallery was filled with familiar Texas artists: Mark Flood (the first solo show), Tom Orr, Francis Bagley, Robert Boland, Jody Lee and Ted Kincaid (the second solo show), and the lone non-Texan Victoria Reynolds. I spoke to gallery director Marty Walker.
MB: What's your background? You used to run Conduit Gallery's annex when it was in Deep Elum.
MW: Yes. I got my masters in painting from UNT, and I was basically teaching painting and drawing. I would commute back and forth to Conduit Gallery to curate shows.
MB: How did you come to realize that you wanted to open your own gallery?
MW: I got sidetracked with web design during the Internet boom. I got this big project and, you know, I was just doing too much sitting! Last June I was driving through New Mexico with Susie Priori when she said, 'Why are you bothering with this website? Why don't you open a gallery!'
MB: Susie is one of my favorite people. What a restaurant she has, and her little mini art shows are wonderful.
MW: So I was on Irving St. looking at space here in the design district, and I got a call from Ted Kincaid. And he said, 'Hey, come look at this space Jay Shin is thinking about buying.' So I said I'd be right over. Jay told me what his plan was: a good contemporary gallery in front and artist studios in the back.
MB: So are the artists' spaces filled up?
MW: All except for one.
MB: Are you partners with Jay Shin?
MW: We're leasing from him.
MB: Are you going to show mostly Texas artists?
MW: No, we're going to show people from all over. You've got to show what you click with, and I'm looking all over for artists.
MB: I see you've got a large opening in the front to bring in sculpture.
MW: Yeah, that will help with Tom Orr's larger pieces. So we're committed to showing some large sculptures. Mark Flood is showing, and then Ted Kincaid, and then Jody Lee. The first show was a group show with all represented.
My next stop was artist
Paul Slocum's
new gallery called
And/Or Gallery
, at the corner of Peak and Bryan streets. This is the kind of place that is particularly exciting because here things are never proscribed as they are in the more 'hyper-neutral' settings such as Road Agent and Marty Walker Gallery. The show that was going up when I was there was
Paper Rad (w/ Cory Arcangel) +Chad Hopper
.
MB: So where did you go to school?
PS: I graduated in 2001 from UNT with a computer science degree and tried to go to graduate school, but it was after the dot-com bust, so there was too much competition. I had a high GPA, but I didn't get into the schools I wanted. So I hung out at home and made art.
MB: You're also a musician.
PS: Yeah, I've played around with music since I was a teenager. I play with various people.
MB: I like the art collective feel about your project.
PS: Yeah, people help out. CJ Davis just came by and helped out with the placement of things. This space is a collective entity.
MB: What are the other shows that are going up?
PS: The next one is Roy Stanfield. He's from Austin, now lives in New York. He's done all this percussion stuff as well as his conceptual visual work. He does these nice drawings from Google images, pen and ink. I'm not sure what we're going to show yet because he's got so much stuff. Then we're going to show Wendy Red Star; she's this half Crow Indian, grew up on a reservation. She hasn't really showed anywhere before. I found her on the Internet. I saw her work and thought it was really cool.
MB: You found her over the Internet. So she's kind of a discovery?
PS. You contact people and you never know what they're going to be like, but she was really nice after I tracked her down. She's a grad student at UCLA. She's done one group show in Paris, but not really anything else. Then we've got Michael Bell Smith. He's from New York. We're kind of like fans of each other's blogs. Nick Ackerman, he's from San Francisco.
MB: The Internet erases boundaries.
PS: Yeah, I have a lot of Internet resources; I can find stuff that other people wouldn't. There's a collective from Canada called Artificial. They're trying to get travel funding now from the Canadian government. They have these 1000-watt light bulbs that they install in the gallery; they're hooked up to club amplifiers and, like, they feed these voices, like talking into them. Each one has its own channel. They'll get really bright, then dim. But they make noise, too. It feels kind of like being in a really peaceful horror movie. I like tech stuff that's real simple and just works. We saw it in Mexico City. It looks like this expensive thing, but it's not, and we can do it.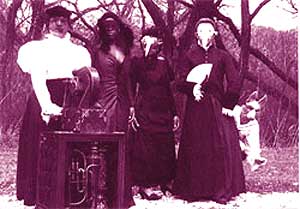 Last I visited George Daniel Sellar's Studio 832. His gallery's inaugural show was J. Stephenson . The look of the gallery comes from the collective Aunt George's School for Wicked Girls (George Sellars, Margarita Buenaventure, Teyah O'Quinn, Miriam Wright and Bill Bartee). The gallery was designed and constructed by Sellars and O'Quinn.
MB: What's your background?
GS: I showed at Carroll Henderson Gallery and Hanley Hicks Gallery.
MB: What made you choose Dallas for a new gallery?
GS: The space itself. And Dallas doesn't have a lot of performance art. I want to create a stage for sculpture and video.
MB: Where did you go to school?
GS: I went to the University of Texas at Arlington on a pre-law scholarship, and ended up six years later with an undergrad degree in ceramic sculpture and art history. Then I went to Florence for a year, for a grad program, and after that an apprenticeship in Italy. Then my first solo show was at Carol Anderson Gallery. I went to Florida to work on the Ringling Mansion. I was the head sculptor on the restoration of the terra-cotta. We had to recarve over 300 original pieces. It was an assignment from hell, but when you're through with that, you can carve just about anything. Then I came back and started showing again.
MB: You're doing something that's slightly outside, kind of disturbing.
GS: I want things with emotion in them. If things sell, that's nice. But we're about showing what has some emotion in it.
MB: What are your plans for the summer?
GS: We're going to put scrims up on the windows and project videos out into the street. Greg Metz is going to do something. We're going to have a little sidewalk show with words and music.
MB: That'll be fantastic. I'll be there.

Images courtesy Road Agent, Marty Walker and And/Or Gallery.

Mark Babcock is an artist and writer living in Dallas.