"You're not, by chance, related to Ziegfeld star Fanny Brice's daughter, Frances Stark, are you?"
"No, but I get mail for her, and once I got into a party because I said I was her."

Whether or not she's the heir to a showbiz legacy, Frances Stark seems to be creating a one-woman magic act. She's a small woman — the kind I would describe as "pixie dust earth goddess"— who has read all the classics and knows how to use them.
A writer known for her former column in Art + Text, and now a teacher at the University of Southern California, Stark is the subject of a solo exhibition at Artpace's Hudson (Show)Room. Filled with new works and some of her signature "bests," the show is something of a recent survey. It's also a concrete way for Stark to regroup her thoughts as she compiles a book on the last 10 years of her art.
With a BA in humanities, Stark is foremost a writer. Along the way, she started making art, and with some small shows under her belt, she applied for the MFA program at the Art Center College of Design in Pasadena. Her medium and subject is paper, with a particular focus on the constant flow of books, mail and correspondence through our lives.


Walking up the stairs to the second floor gallery, I find the first piece hanging just at the top of the stairs. Titled In and In (2005), it is a large, framed white sheet of paper with two, tall collage stacks representing dangerously full desk piles. In a solipsistic spin, these are cut from actual junk mail, with a crazy quilt of patterns, colors and truncated words piled on top of each other.
There is a definite sense of Asian perspective in how the stacks tilt toward the viewer at a skewed angle, a sense of space that recurs in her work. In a phone conversation I later had with the artist, I asked her about it. She replied:
"I was talking to Hiroshi Fujiko…who I think has a show in Dallas right now…and he said, 'Oh your work has such a Japanese aesthetic…where did that come from?' I think it came from learning about Japanese art in college. And that negative space was so much about composition from the gate."
Artists often absorb such signature aesthetics through a kind of cultural osmosis. In Stark's case, it doesn't hurt that she lives on the West Coast, more specifically in Los Angeles's Chinatown. But then again, when using papers with gorgeous patterns or cryptic text and image fragments, it just makes sense to tilt them down to 'show a bit of leg."
Looking closer at the work, I realize that it isn't the predictable collage I first thought it was. Rather than being glued to the paper, the cut pieces float just within the zig-zagging open area where Stark has cut out the shape of an untidy stack. The actual stacks are held in place by wisps of hinge tape generally used in framing, strategically placed all over the front of the collaged collection to hold it in its outline.
When I mentioned the tricky surface, Stark responded:
"[I am] reincorporating it back into the paper. It's structural. If it was glued on, it would have a completely different feel. This way it is building a new surface rather than image."
And this is the way several of her collages work. They have a sense of imminent collapse about them when you see how they are made.


Entering the gallery, I find diaphanous paper works clinging to the walls. Stark gives free rein to the page when creating her art, using typology to create a series of haiku-like pinpricks. A Particular Wavelength (1998) features a repetitive pattern of small Microsoft icons. Yellow on white paper, the little symbols are barely legible, more of a highlighter blur unltil you get close enough to make them out. They remind me of writing secret messages in lemon juice as a kid, the kind that had to be held over a toaster and heated to be read, a playful association that seems to fit with Stark's everyday sense of personal entertainment.
The artist's text attached to the wall next to the piece, like a footnote cut from the page, talks about the excitement when you learn for the first time in science class that solids are really made up of moving particles. The drawing has a similar frenetic quality, mostly caused by the optical tricks that yellow on white plays on one's eyes.
So what to make of the fusion of art and text in Stark's creative output? The twin muses of Ars and Poesie have been wrestling for centuries, going back to medieval illuminated manuscripts when designs were, quite literally, marginal. For Stark, Word versus Image is a personal conflict:
"There is a fight in my work. The work is extremely visual. Very early on I realized how hard it is to photograph my work. There are just a lot of formal, visual qualities to it. It's a private battle for me, too. When I was a teenager I wanted to be a writer because that was an artist. I came to being [as] an artist when you didn't have to be able to do anything; it was just all conceptual and framed in thinking. And I realized in my writing class that this is my passion. This is a line I can draw. I guess voice is almost the intersection of the visual and the word. Even though it's not visual, it has texture to it."
A long, L-shaped table in the middle of the room holds layouts for her upcoming book, complete with photocopied pages and notes, a copy of her book Frances Stark Collected Writings: 1993-2003 and a scale model of the Hudson (Show)Room exhibition. Beneath this, a burnt orange rug with faux-Chinese designs around the edges warms up the room with color and texture, while nestling the table in a soft spot. Viewers are allowed to step on the rug and get a bird's-eye view of the table's process-oriented contents.
"The rug was a lucky find. When Kate [Green] asked me to do the show, I said that I'm working on a book of my work and I'm not really interested in making a new body of work. I'm interested in how you translate an exhibition into book form. I'll have a table, and it won't feel institutional, and I want it to feel like there is a direct correlation: 'Oh there's stuff on the wall, and text on the wall, and text on the table.' The rug is a kind of literal visual grounding, to make it fit in the room to [the point] where it doesn't feel like, 'Oh, there's a big table."
Furniture is at home in the room, namely because it is a theme in many of Stark's collages, such as Birds Harmonizing on Upended Table (2001) and No, no, no, no, now, a place to sit (2001) — though these works are less seductive and more eggheady, typographical pieces.
The Chinese lantern drawings, however, have a lovely ruler-edged quality, particularly Paper Lantern (after Pae White) (2001). Tying themes of Asian décor and the portability of art together, a red bamboo restaurant chair rests on four pedestal blocks. Titled The Unspeakable Compromise of the Portable Work of Art: Number 11 in a series of 16, in lieu of my couch (2001), it is a rescued historical artifact from Chinatown's oldest restaurant. Its knuckly, broken legs are blatantly held together with linen tape and splints of unpainted wood.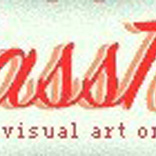 In another part of the universe, Stark makes an appearance in artist Charles Ray's film Fashions, where she models 70 different outfits that she has made, all stapled or taped together, while she rotates on a disk like a jewelry box dancer. It's signature Stark at work, the same woman who uses lofty essay space to write about buying throw pillows at Pottery Barn because she doesn't know how to sew and can't get around to mastering slipcovers.
In her essay "Professional Me," Stark discussed Howard Singerman's book Art Subjects: Making Artists in the American University (University of California Press,1999):
"Me, I was accepted into a Fine Arts Graduate program without having obtained an undergraduate art degree. When talking to a room full of students I confess this when showing my first slide, often of a 1992 work titled 'self-portrait/autobiography' — a carbon tracing of my transcripts from a state university. It lists things like Fundamentals of Oral Communication, Thought and Image II, Nietzsche and Postmodernism, Architecture and American Life, Comparative Form and Culture. The grade column starts off hopeful, then turns into a relentless stream of 'Unauthorized Withdrawals' and 'Incompletes' which eventually reappear in their own conspicuously indented columns as F's…Today my presence in the classroom says 'success,' and emphasizes that despite (or because of) my failure, I am a professional, a professional me."
(Frances Stark Collected Writing: 1993-2003[Book Works, 2004], pp. 52-53.)
The next paragraph goes into John Keats's biography of Dorothy Parker, in particular her condition as a notorious quitter, ending in the ultimate act of quitting, namely suicide. But Stark notes a section relevant to her own life, when Parker 'showed a visitor a box full of paper, saying it was her manuscript, but the box contained unanswered letters and unpaid bills." This is similar to Stark's routine use of paperwork in her visual art, as if she decided to open Pandora 's box and unleash all her transcripts, personal jottings, sketches and literary appropriations on the world, which she then ties together with linen tape, patterned papers and momentary flashes of insight rather than too-heavy concept.
Brief aspects of the natural world — perhaps a nod to the Transcendentalist authors that she admires like Emily Dickinson, Henry David Thoreau and Walt Whitman — appear repeatedly in Stark's work. Two of her most visually stunning pieces are collage flowers, where only the bursting crown of a chrysanthemum interrupts the long, scroll-like page. In 50% Off (2005), the background is shocking red.
Similarly, cut-out bird images take roost on many of her collages.
"Birds are versatile — a symbol for the poet or the voice. Emily Dickinson used them a lot. I originally used [the image] as something graphically commanding to the eye, something perched on something. Suddenly, though, I look around and realize that everyone has been using birds for the last couple years and it's become an Urban Outfitters motif."
In Unfortunately… (2002), typographic bubbles with stuttering lines of letters support magazine birds that perch on them as if sipping at a hummingbird feeder. The letters are from the line in Robert Musil's A Man Without Qualities: "Unfortunately nothing is so hard to achieve as a literary representation of a man thinking."
Stark shares the sustenance she gets from books and music lyrics, but it takes investigation on the part of the viewer/reader. It's worth it, though, and quite generous, because just as Stark says…
"It's funny how, when reading, we often exclaim, 'Yes, yes, I was just thinking that.' But of course we weren't just thinking that, exactly; however, the blind enthusiasm responsible for such sloppy comparisons is precisely the joy of reading, that private ineffable joy of apprehending that which was, let's just say, effable to someone else."
(Frances Stark Collected Writings, p. 53).
Images courtesy Artpace.
Catherine Walworth is an artist, writer and curator currently living in San Antonio.