Whenever fine art printmaking presses are referred to or reviewed in the press, there is always a lengthy definition of the term "fine art printmaking press." Austin's Flatbed Press is a printshop whose collaborations, publications, and exhibitions reach beyond a simple definition of terms.
Whenever fine art printmaking presses are referred to or reviewed in the press, there is always a lengthy definition of the term "fine art printmaking press." Austin's
Flatbed Press
is a printshop whose collaborations, publications, and exhibitions reach beyond a simple definition of terms. Flatbed is a publishing workshop that collaborates with artists to produce limited editions of original etchings,
lithographs
,
woodcuts
, and monoprints. Flatbed also does contract printing for other publishers, dealers, artists and institutions, and allows experienced artists limited availability for open-shop printing.
In addition, Flatbed has a gallery that specializes in original prints, but also exhibits and sells paintings, drawings, and photographs. Texas artists have a strong representation here, but mingle in the flat files with artists from all over the US, Europe, Central, and South America. Flatbed editions have ended up in several major institutions, including the Museum of Modern Art and the Brooklyn Museum of Art (work by Michael Ray Charles) and the Whitney Museum of American Art (work by Trenton Doyle Hancock).
The current group of Flatbed's publishing and co-publishing projects directly relate to its history. Founded in 1989 by Katherine Brimberry and Mark L. Smith, the physical location was moved from a small downtown site to MLK Boulevard on Austin's East Side. An 18,000 square foot warehouse houses the press, the gallery, and a handful of smaller galleries and studios.
Within the group of artists they have published, Flatbed has chosen carefully between abstraction and figuration, as well as between conceptual and more traditional, formalist images. They have also worked to create technical innovations that address the problems of complex imagery. From the start, Brimberry and Smith took risks with the prints they produced, stretching the comfort zones of both the artists they worked with and the master printers. This produced a number of important works by Dan Rizzie, Robert Levers, and Terry Allen, among others.
This stretching continues to develop and produce engaging and technically challenging imagery. The current co-publication of Palace of Fine Arts, a suite of new pieces by Ken Hale, is a large-scale intaglio print. Having recently finished creating the plate and making decisions about color, ink, paper, and format, Hale is currently working with Katherine Brimberry on the first image, a depiction of the Palace of Fine Arts in San Francisco. Hale's Palace of Fine Arts is clearly drawn from a photographic source, but the linework, washes, and aquatint integrate the picture plane. The image floats on the page, working within a series of sophisticated color combinations, playing with the senses in a way that evokes a memory that is just out of reach, just on the other side of one's peripheral vision.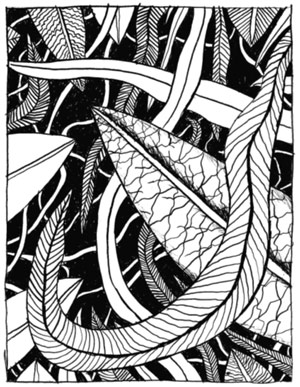 Katie Van Scherpenberg's Furo is probably the most conceptual project that Flatbed has worked on to date; the piece is based directly on an environmental installation situated on the beach in front of the Sao Paulo Museum of Art in Brazil. The installation involved a depression in the beach sand filled with iron oxide. As the tide came up the beach, reaching the pigment, it pulled the pigment out of the depression and created a wound on the beach. The wound streaked and grew, eventually releasing all of the oxide and leaving only the path of degradation. Flatbed's publication is a photographic description of the installation that transcends documentation; the piece uses photogravure images of the beach printed on rice paper, then glued to larger cotton pieces, known as chine colle. The photogravure was then wiped with the same iron oxide pigment that was contained in the installation, creating a triptych that measures 24" x 90".
An upcoming summer publication by Frank Tolbert, Nothin' But Blue Skies, uses a direct photographic polymer relief instead of traditional intaglio techniques. If Tolbert's 2004 exhibition at Gerald Peters' Gallery is any indication, these images will use photographic techniques to visualize a very strong drawing style. Tolbert has worked in various mediums, but this photographic polymer technique will allow him to have freedom with the original drawings, letting him work on or off the plate, then exposing the drawing onto the matrix. This process allows Tolbert to create a drawing or a part of a drawing in his studio, bring it to Flatbed, develop and respond to the image on site, then prepare the image for editioning. For artists not used to working this way, it may seem counter-intuitive, but there are benefits that would not be available to Tolbert inside his own studio space, or stuck in the printmaking studio.
The most technically ambitious project that Flatbed has undertaken lately involves Brooklyn artist Lamar Peterson. Peterson, who received his MFA at RISD a few years ago, has hit the ground running with his representations of humans and animals interacting in fantastical, brightly colored impossible landscapes. In this project, the human and animal characters jump out of the landscapes to become working hand puppets, the kind children make from brown paper lunch sacks. Based on handmade puppets that Peterson exhibited at Site Santa Fe, Brimberry and Smith decided that although the project would be over-the-top as a printed edition, the challenge was irresistible. The project exists as two paper bag hand puppets, based on Peterson's characters' from his previous paintings. The lithographs are rendered in 18 and 20 colors respectively, and that means using 18 and 20 different plates to create the image.
When this process is done by hand, the technical difficulty increases exponentially with each color added. The lithographs are then made into puppets, whose detailed sense of unique character is juxtaposed with the fact that these characters are part of a larger, nearly identical edition. This puppet edition allows the viewer to act as performer, moving each puppet around, creating narratives, dialogue, and imagining a larger environment. The artists that Flatbed is currently publishing and co-publishing are similarly pushing the medium of printmaking: getting inside of it, working it around, creating narratives, colors, textures, and techniques that are wholly their own.