Uta Barth's simultaneous shows at the CAM and Lawing Gallery present a comprehensive retrospective of her work for the past ten years. The two shows are complementary; the five painting/photo pieces from 1991-94 at Lawing exactly fill the gap in the CAM's Between Places.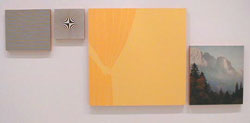 Barth's pre-1995 work, like Untitled #16 at Lawing tries desperately to combine photography and painting via multipart collages of photos and painted panels. Both the surface of the paintings and the subjects of the photographs are subdued in an attempt to merge them which never quite comes off, but which ultimately forms the base of her later photo work.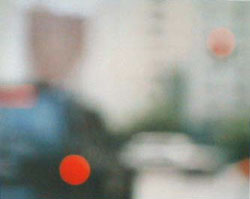 Barth's best (and best known) work begins immediately after she threw out the paintings and concentrated on the blurred photos she is mostly known for. In the Ground series, beginning in 1994, modest scale panels show fuzzy slices of bare interiors: a curtain, bookshelves, a lamp. The Field series takes us outdoors; Field #3 is one of her best: some indistinct blurs are recognizably a car, streetlights and trees, but others remain a mystery, hovering exactly at the edge of recognition. The piece flip-flops from atmospheric, moody abstraction to street scene and back, endlessly.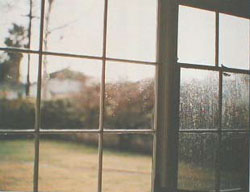 Much of the talk about Barth's work centers on its relation to painting, but who cares? Abstract photos are nothing new; Edward Weston and Man Ray were doing it in the early 20th century. What's important about Barth's images is their sense of isolation and melancholia. In the Ground series, the blurring stands as a physical screen between the viewer and the subject of the photo. Some of the Nowhere Near images take this a bit too literally, with actual windowpanes (some with raindrops!) dividing the space between the camera and an outside world where it's always a rainy day, generating a sense of longing appropriate for a novel by one of the Brontë sisters.
Barth's photos are a view of earth after the neutron bomb or the rapture: everything intact, but no people, just places where people used to be, as in the airless water tower photos of Bernd and Hilla Becher, or the anonymous industrial interiors of Andreas Gursky. By removing specific locations and characters, Barth's works present a universalized space on which we can project our own loneliness. Barth's genius is in using self-conscious, formal composition as an antidote for sentimentality. This is best illustrated in the rare cases where it fails: in Untitled, from Nowhere Near (nw 8), a tiny biplane hangs in a window as if flying into the immense stormy sky outside, charging the piece with drama which even a grid of abstract, almost constructivist black bars can't restrain. The tiny dark plane is hidden on purpose; at the moment of recognition, its presence changes the piece from a geometric exercise to Amelia Earhart's last flight. Usually Barth is right on; In Untitled (98.1) a quaint white cottage is de-kitched without losing its nostalgia through blurring and repetition.
In her most recent series, the
. . .and in time
pictures, Barth warms up, replacing the cool palette of her earlier works with a bland, pleasant, yellow and gray interior. Here time, not space, is abstracted, as rectangles of yellow sunlight slide across carpet and walls. The comparatively traditional alienation of the
Ground
and
Field
photographs is replaced by a subtle, pleasant, middle-aged tedium.
Photographing nothing is popular with contemporary artists: the CAM itself has shown Hiroshi Sugimoto's Zen seascapes and Andres Serrano's milk and blood monochromes. Partly these artists are continuing the attempt to free photography from its overriding preoccupation with imagery and narrative. Partly they are taking advantage of the relatively recent art world acceptance of photos with the scale and impact of paintings.

All imges courtesy the artist, CAM and Lawing Gallery

Bill Davenport is an artist and writer and was one of the first contributors to Glasstire.