Throughout the fall of 2018, various venues around Houston are finding ways to celebrate the city's rap history. Although it is not lauded as the state's music capital (Austin claims that title), Houston and its suburbs have spawned a number of nationally known rappers and groups: Since the late 1980s/early 1990s rise of the Geto Boys, Houston's rap and hip hop scene veterans have included UGK (Pimp C and Bun B), Mike Jones, Slim Thug, Trae tha Truth, Chamillionaire, Devin the Dude, Travis Scott, and many others.
Houston also served as the hub for chopped and screwed music — a DJ technique that involves scratching and "chopping" a slowed-down version of a song. The technique was pioneered by DJ Screw in the early 1990s, and he and his collaborators made hundreds of "Screw Tapes" featuring chopped and screwed music paired with freestyle raps by members of the Screwed Up Click, a loose collective led by DJ Screw.
In 2010, ten years after DJ Screw's death and only a few months after it established the Houston Hip Hop Recording Artists Collection, the University of Houston Libraries Special Collections acquired the DJ Screw Papers, a collection of tapes, papers, photographs, recordings, and other objects that document DJ Screw's life and work. Since then, UH Libraries has acquired the archives of Houston rapper Anthony "Fat Tony" Obi, DJ Steve Fournier, and materials related to the production of Peter Beste and Lance Scott Walker's book Houston Rap.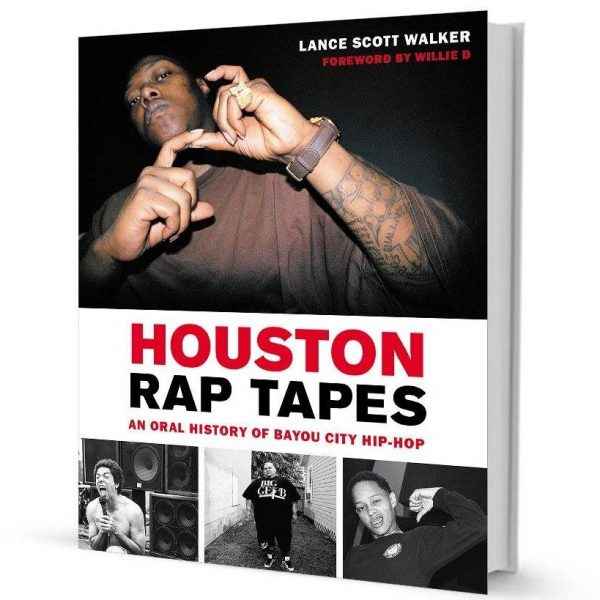 Some of the objects from these collections are currently on view in Brothers in Rhyme: Fat Pat, Big Hawk, and the Screwed Up Click, an exhibition at UH's MD Anderson Library though December 14, 2018.  Also happening this fall, in conjunction with the release of Lance Scott Walker's new book Houston Rap Tapes: An Oral History of Bayou City Hip-Hop from UT Press, are book events across Texas, including a book launch with Rick Royal of Royal Flush from 7-9PM on October 16 at Deep Vellum Books in Dallas; and a Q&A and book launch at Brazos Bookstore in Houston on October 21 from 5-6PM. See below for more upcoming book events celebrating Houston's rap history. Also, go here to see Glasstire's 2017 interview with Mike Frost about the history of Houston's hip hip album covers.
Houston Rap Tapes Book Launch
PRODUCE®, Corpus Christi
October 18, 7-10PM
Houston Rap Tapes Book Launch
Marfa Book Company
October 19, 7-10PM
Houston Rap Tapes Book Launch
Friends of Sound Records San Antonio
October 20, 6-9PM