Let's say you were going to open a bar — maybe a craft-beer place that advertised "hand-pulled pints" and is called like Barley Pilgrim. Most likely you would hire a branding firm filled with trim millennials in Ben Sherman shirts and Bonobos who say things to their clients like "we're gonna get greasy on this one" and pay them ten thousand dollars to make a sign design that's a woodblock print of a wizened hermit in a wheat field drinking a flagon of mead with the quote by Benjamin Franklin: "Beer is proof that God loves us and wants us to be happy." Or maybe it's a fancy cocktail spot called Sapphire Social Club and the sign is a tres whimsique Art Deco fairy over a martini glass. This is the aesthetic of new bougie bars, bars that have a power-point deck for "brand strategy" and cater to coders who light their Slack channels up with Ron Swanson gifs that read EPIC HAPPY HOUR.
These are not my bars. My bars usually have more modest and faded signage. They're often highly air conditioned and silent as tombs, to respect those so hungover a simple radio ad for Sleep Country Mattresses could send them into neverending Lovecraftian horror. San Antonio, a giant blue-collar city, is an oasis of spots like these. Here are some of my favorite signs.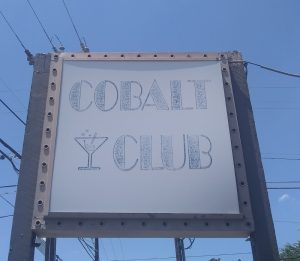 The Cobalt Club
Someday, this harsh institution will be razed, and in a harbinger of encompassing gentrification; a small-plates, cask cocktail bar will be built on the ashes called The New Cobalt Club. This one opens at 7am so the overnight staff at the hospital can have a couple of brutally stiff drinks to take the edge off. Often times they will have some weird food in a crockpot so the "reliable regulars" won't wither into a cornhusk and blow away when a George Jones song comes on.

Silver Dollar Junction
Kind of a bar, kind of an event space, this gigantic building, next to venerable San Antonio record store Hogwild's, brings to mind the notion of the Max Fischer Players from Rushmore staging the club scenes from Carlito's Way.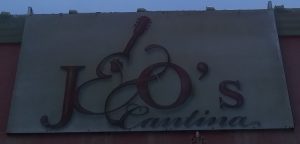 J&O's Cantina
I imagine J&O stands for two names, but the way the sign is designed it looks simply like JO Cantina, something  Hank on the Larry Sanders Show would use as a euphemism for masturbation. This bar is intermittently open, and the couple times I've gone there a very friendly dude has bought me a shot and asked if I would forge a car title for him. When I demurred he cheerfully said: "No worries brother, got to shoot your shot though, haaaah."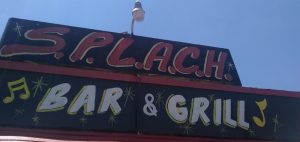 S.P.L.A.C.H.
Learn what S.P.L.A.C.H. stands for to die instantly. You will be buried in jorts. This large pool hall bar is as frosty as David Letterman's studio and a shot and beer costs less than a 2 oz shot of bone broth at a farmer's market. "How's it going?" I asked the bartender. "Hungover as shit brother," he replied.