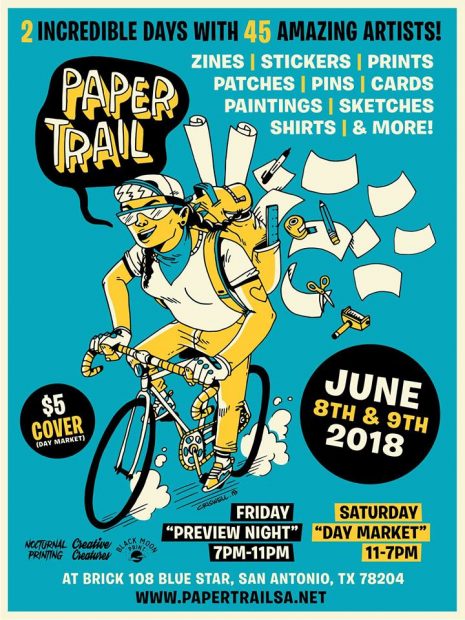 Today, June 9, 2018, marks the fourth annual happening of Paper Trail, an event designed to highlight paper-based art, design, and printed media. From 11am to midnight, more than 40 artists will be on site at Brick, the new venue space at the Blue Star Arts Complex in San Antonio, hocking their zines, prints, patches, buttons, and everything in-between.
This year's iteration of Paper Trail is organized by the San Antonio artists and designers involved in Black Moon Print and the gallery/shop/studio space Creative Creatures. Some of the vendors participating in the event include Austin-based Cattywampus Press (which recently published King of the Commode: Barney Smith and His Toilet Seat Art Museum), San Antonio-based artists Cruz Ortiz and John Johnson, and San Antonio and Baltimore-based Sybil Press. See below for a full list of exhibitors.
If you're on the hunt for more print media across Texas, keep an eye out for the San Anto Zine Fest, Zine Fest Houston (which has a zine release party on June 15th at Bill's Junk), and the Lone Star Zine Fest, which is currently raising money for its 2018 iteration.
Exhibitors Paper Trail 2018 include:
Aaron Pozos
Aaron deGruyter
Ana Garcia
Andy Kettler
Angel Chavez
Ashley Mireles
Brittany Longoria
Caitlin Davis
Cattywampus Press
Cecilia Arce
Christopher Ochoa
Claudia Aparicio Gamundi
Connie Chapa
Dan Grissom
Daryan Arcos
Elisa Wikey
Gilbert Martinez
James Huizar
Jason Limon
Jerry Hernandez
Jesse Guevara
Jessica Bartolett
John Johnson
Jose Sotelo
Juan Gonzalez
Justin Black
Lindsey Verrill
Markee Shadows
Michael Ruffo
Mike Fisher
Omar Gonzalez
Paul Rigg
Puro Chingón Collective
Rebecca Gonzalez
Rigo Ortiz
Robert Tatum
Sarah Cooper
Shelby Criswell
Snake Hawk Press
Steffany Bankenbusch
Sybil Press
Timothy McVain
Tyler Skaggs
Valerie Brown
Vanessa Macias
Yogurt Lump
Zane Thomas