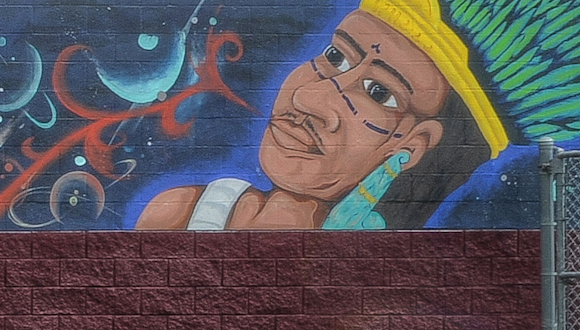 The City of Austin's Art in Public Places Program has announced the restoration of For La Raza, an iconic East Austin mural celebrating the Chicano heritage of the Holly Shores neighborhood. Originally created in 1992 by community muralists Robert Herrera and Oscar Cortez, the mural was recently restored as part of the City of Austin Parks and Recreation Department's Holly Shores Master Plan. The project will be celebrated at a free, public event on July 21,11am-1pm at 2215 Riverview Street. All are welcome.
"The restoration of this beloved artwork simultaneously honors the history of the Holly Shores neighborhood while also looking towards its future," said Sue Lambe, Manager of the Art in Public Places Program. "Representing multiple generations and artistic styles, the new mural celebrates the distinguished heritage of the community and reflects its values and character."
First painted by Herrera and Cortez in 1992, For La Raza is one of several murals sited on the exterior wall of the decommissioned Holly Street Power Plant near the Holly Shores and Festival Beach area in east Austin. Over the years, the mural fell into disrepair, with much of its vibrant imagery—including Aztec gods and symbols of Mexican history and identity— having faded or been painted over or tagged by other artists.