Sarah Fox's multi-media works are simultaneously unsettling, tactile and elusive, suggesting a childlike fairytale ambience and dark sexual symbolism. In her solo show at Cinnabar in San Antonio, Fox takes a classic nursey rhyme: 'Lucy Locket lost her pocket/ Kitty Fisher found it/ Not a penny was there in it/ Only ribbon round it,' and plumbs the associations and meanings behind the simple, creepy rhyme. Fox discovered that Kitty Fisher was a renowned 18th-century British courtesan. Fox also learned that in Mexico, groups of prostitutes were called arañitas (little spiders). The various excellent collages, sculptures, and video works explore sexuality, power, autonomy, and escape through a highly imaginative and cinematic dream logic that recalls such film classics as Heavenly Creatures and The Company of Wolves. 
In Lucy Locket and Kitty Fisher 2, Fox packs the collage with sensual aesthetics and references. A multi-animal, transhumanist coil floats in an ethereal, starlit void. The coil resembles perhaps a necklace or piece of jewelry, and also a sperm. The animals contained in the coil — a giraffe, scorpion, worm etc. — suggest the limitlessness and also horror of creation.
In Ms. Pussy, a dog-faced, lizard-armed creature with a conch shell for genitals sits splayed in front of an egg that has cracked open, and has stalks with spiders climbing on it. The show has a vibrant, fecund radiance, as if sex and creation were their own nursey rhymes that, once opened, unspool without restraint, terrifying and free.
Sea of Love, perhaps a reference to both the song by Phil Phillips and the underrated 1989 erotic thriller starring Al Pacino and Ellen Barkin (where a serial killer finds his victims from romantic personal ads and leaves the song playing at the crime scene), depicts a stork-like creature cutting the antenna (or umbilical cord) from a floating mermaid over a chasm. Each of these gorgeous collage pieces are relentlessly dense and thematically cyclical. Creatures make repeat appearances. The color red — of menstruation and violent death — is splattered throughout, and most of the collages have ethereal, starry backgrounds giving them an otherworldly setting for the phantasmagorical tableaus.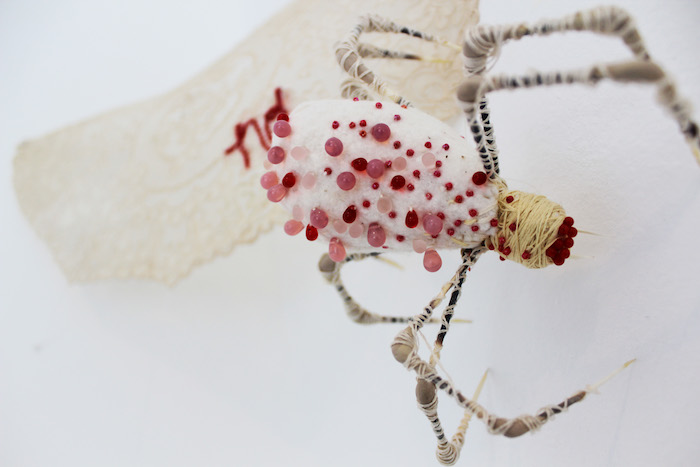 Fox creates a series of spider sculptures and webs called Arañitas "No," from cotton and crocheted doily clothes flecked with red beads of "venom" and the word NO in red, sewn into the center of the web. Like most of the pieces in the show, beguiling beauty and the threat of violation queasily coexist. Perhaps the center of the arañitas' web is a rejection — a courtesan's shut-down of an exchange; perhaps it's a full-throated call of agency and control over one's body and its progeny. Perhaps it's both.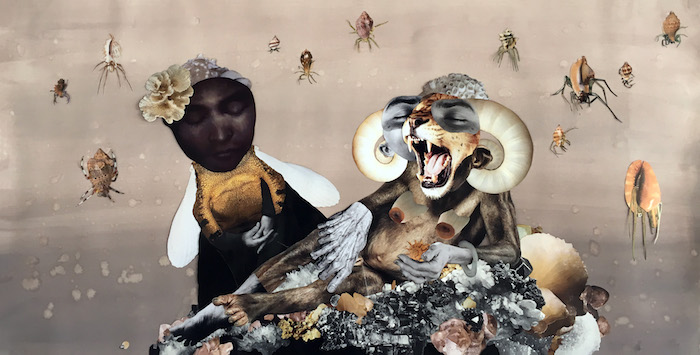 The presence of webs, holes, voids, shells curving into themselves, reverberate throughout the show. Such abysses are the ineffable spaces of sex, power, and creation. The playful, dizzying details of animals often fold or meld with each other like Ouroboros. Just as nursey rhymes usually have a long tail of myth towards desire and death, Kitty Fisher & the Arañitas winds through its overwhelming canopies of inscrutable scenarios to a dark heart of some universal fable. The night is dark and a maiden is surrounded by wolves, but the spiders and creatures in the garden are there to spin their webs, to offer protection.
Through April 29 at Cinnabar Gallery, San Antonio.