On Christmas Eve, Swedish artist Carolina Falkholt painted a four-story penis on the side of a building in New York's Lower East Side, reports The Independent. Commissioned by a street art foundation called The New Allen, permission was apparently not received by the owner of the building.
A member of the collective told The Independent: "It is all about sexual freedom and really understanding human genitalia as a basic thing. The artist is a feminist and she usually paints vaginas but she decided to do this for many reasons. First of all, to be comfortable and raise awareness about sexuality being something very normal. Also, about sexual abuse because the penis is something used sometimes as a weapon." He added, "Half of the world has a penis so why would it be so controversial?"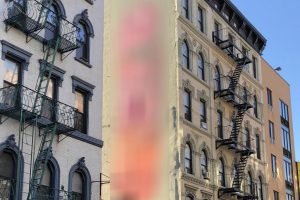 Although many neighbors were supportive of the work of art, there were enough complaints that the owner hired painters to cover it up. The Independent and most other news agencies displayed the image as blurred or highly digitized.
It seems most preteen boys with marks-a-lots discover their artistic side with the same subject matter, but a feminist artist with paint and scaffolding is not welcome in the Lower East Side.