This is the second post in a series of zine roundups where I pull some zines from my library — some old, some new, some from Texas and some from abroad — and give you the lowdown on who made them and what they're about. Read the first post here.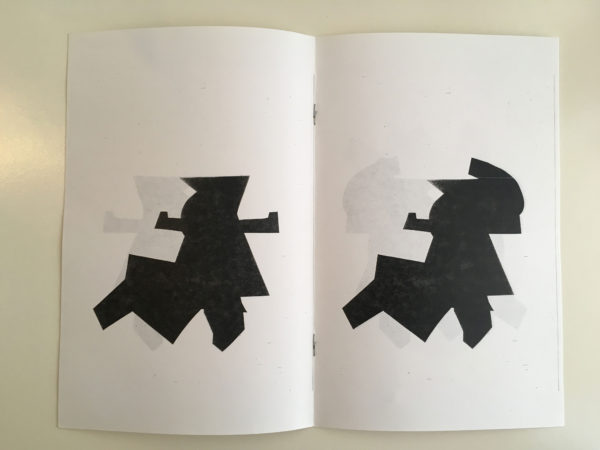 Author: Randy Guthmiller
Title: Shapes
It's difficult to describe an artist's practice in a single word, but Dallas-based artist Randy Guthmiller does it for us. In an age where context and narrative feel imperative and lengthy wall labels and artist statements reign, it's both refreshing and slightly disconcerting to come across an artist whose work you can grasp immediately. This is the way I felt when I first encountered the zines of Guthmiller.
In his series of Shapes zines (the artist has published more issues than I can count), Guthmiller turns simple silhouetted forms into his medium. While of course all artists employ the concept of 'shape' in some way, Guthmiller's focus on them is hyper-obsessive; his work is about the purity of the shape and how the viewer sees and interacts with it. It's an idea that is both simple and profound, and neatly embodies the artist-viewer dynamic — Guthmiller creates an objective artwork of a certain shape and color, but then asks the viewer to make it subjective through their experience of it.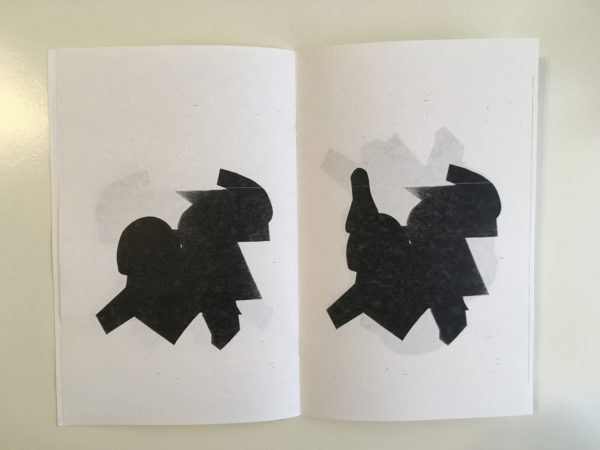 Guthmiller's zines come in all forms: some are pocket-sized, some are tabloid-sized, and some are printed in color while others are simply black and white. A few of his zines start with a single shape that, page by page, is added to and transformed. In these, the shapes take on a narrative — we see their lifecycle of growing and becoming more bulbous versions of their former selves. Another of Guthmiller's zines series is of colored paper collages purposefully laid out on graph paper. Looking like miniature Ellsworth Kelly canvases and minimalist Henri Matisse cut-outs, each composition communicates a depth, thanks to the lines running parallel and perpendicular across the page.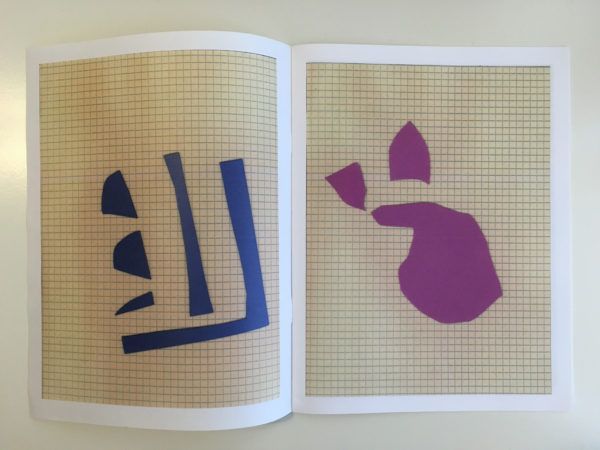 Guthmiller's love of shapes has a performative element that extends beyond his zines or wall works. For him, shapes — noticing them, talking about them, pondering over them — are a way of life.
Randy Guthmiller is the founder of SHAPE ZINES, a Dallas based zine label and publishing house, and DALLAS ZINE PARTY, an annual zine fair in Dallas, Texas.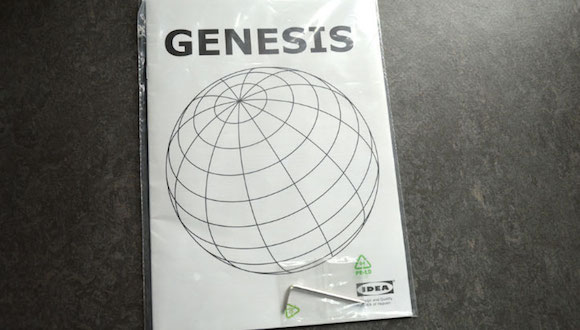 Author: Joan Manel Pérez
Title: Genesis
Get it here.
I love zines and artist's books that mimic shoddily made, throwaway pamphlets. Joan Manel Pérez's publication Genesis is printed on recycled paper, bound with staples, and comes with an Allen wrench — it's designed to mimic an IKEA assembly instruction manual. The publication is strikingly similar to the real thing. If it were laying on a coffee table you would believe it was made by a Scandinavian furniture company. Instead of assembly instructions, however, the book is a "how to" in which, in 29 steps, an all-seeing God character creates Hell, the Earth, and human life.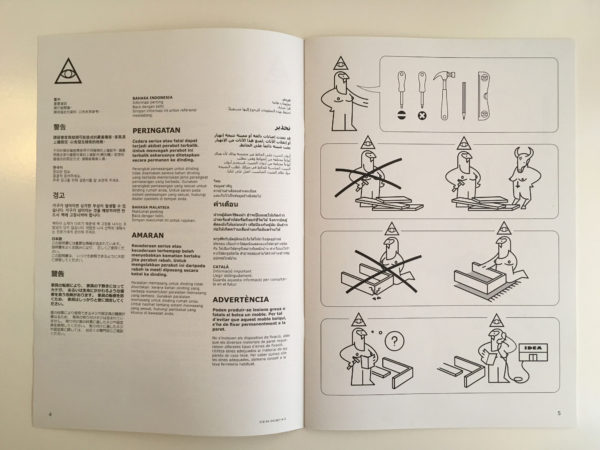 Because of its commitment to an IKEA-like aesthetic, no detail is omitted: the book begins with a warning (in 20+ languages) telling the reader about the dangers of unsecured furniture; there's also a parts inventory that includes one horned devil, two humans, fish, birds, and everything necessary to make a Big Bang.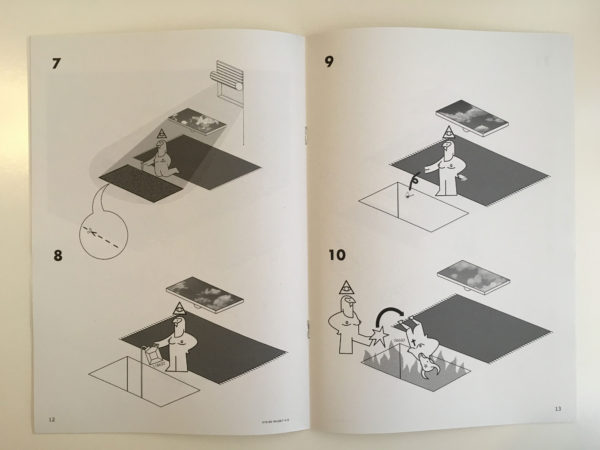 From there, the instructions begin. At first they're rather straightforward, but the steps become increasingly abstract and reliant on a sort of miracle-like magic that can only be provided by a God. If you've ever had to assemble a piece of IKEA furniture, this situation is all too familiar. Better yet: the Allen wrench included with the manual isn't put to use in the process of world creation, but is instead revealed to be a gift from the devil to Adam and Eve — it's their forbidden fruit. Now they (and you) have a tool to takeover the world. 
Joan Manel Pérez's Genesis was published by Belleza Infinita and was featured at the 2016 LA Art Book Fair in a special section focusing on publications from Spain.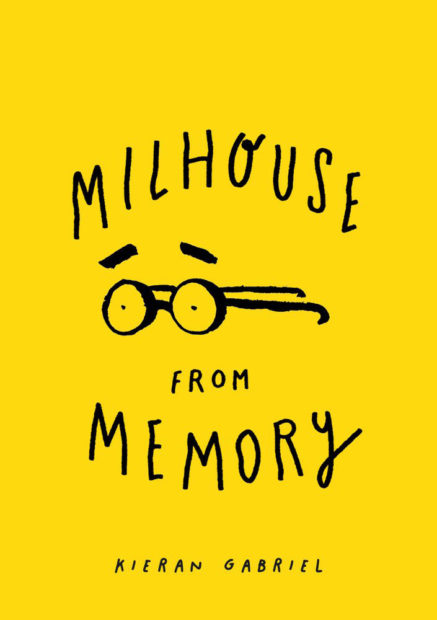 Author: Kieran Gabriel & Others
Title: Milhouse From Memory
Get it here.
The Simpsons is a cultural touchstone that encompasses generations. Even if you've never watched the show, you know the characters and the archetypes they represent: the fat, lazy dad; the punk son; the enlightened, out-of-place daughter; the money-grubbing boss, etc. Ever since the show began, people have pirated the characters, crudely redrawing them and putting words in their mouths. The most prevalent character in this appropriation is Bart Simpson, who's a favorite of artists, musicians, and zinesters.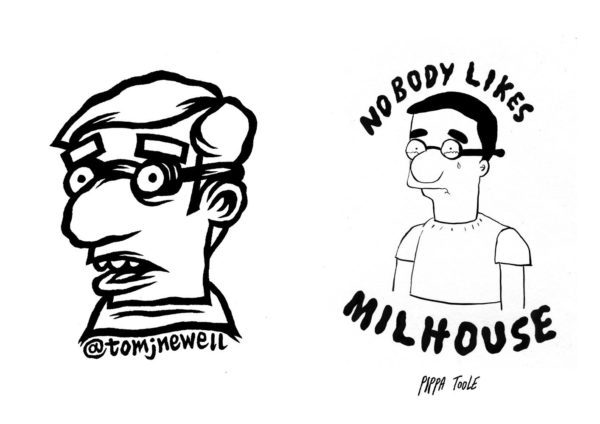 Kieran Gabriel, however, asked his friends to draw portraits of Milhouse Van Houten — a secondary character who's the smart but socially naïve best friend of Bart. Gabriel had the artists create their portraits from memory, meaning that the collection of drawings is crude, largely inaccurate, and at times downright weird in a way that recalls the zine compilations of Houston's Sketch Klubb.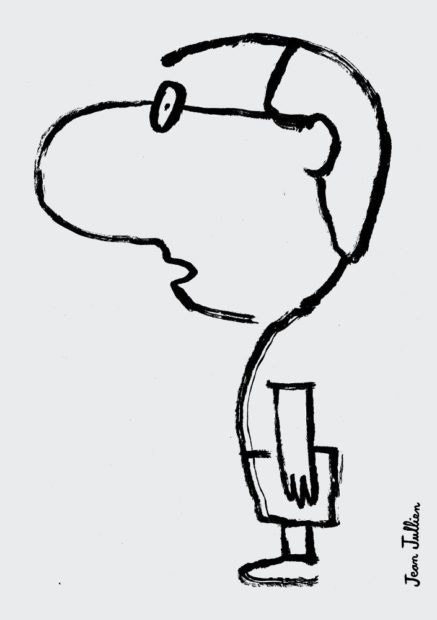 A subtext of this exercise is a critique on how we perceive what is around us. Though some of the artists are longtime fans of The Simpsons and know Milhouse's character, no one got the drawing quite right. If we can't remember the features of a simple cartoon character we've been watching on television for 29 seasons, how can we rely on our memories to give us an accurate picture of what we're trying to remember?
Kieran Gabriel's Milhouse From Memory was published in 2016.