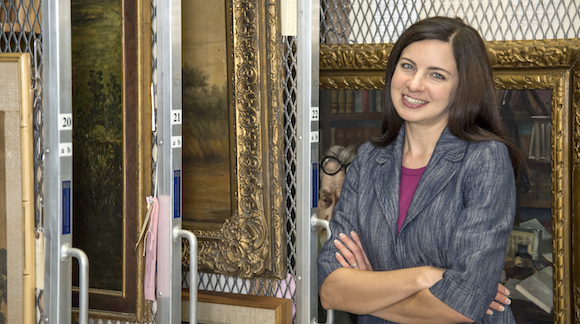 The Harry Ransom Center (HRC) at The University of Texas at Austin has appointed Tracy Bonfitto as its new curator of art. She was officially hired on June 12 and started her position last month. Her professional experience includes affiliations with the Getty Research Institute, the Fowler Museum at UCLA and the Los Angeles County Museum of Art. She was previously a lecturer in the Art History Department at the University of California, Los Angeles.
For those who have never visited the HRC, it was Google before there was Google. Even better, because it has real objects. In an interview, Bonfitto states:
In my short time at the Ransom Center I've discovered quite a few unexpected and compelling things: early prints by the American Regionalist Thomas Hart Benton, John Biggers' lithographs related to Maya Angelou's Our Grandmothers, sketches for the nineteenth-century Scottish author Robert Michael Ballantyne's book illustrations, watercolors by the important Bengal School artist Abanindranath Tagore. Just to name a few! The collection is a gold mine for things like these.
For the full interview, go here.