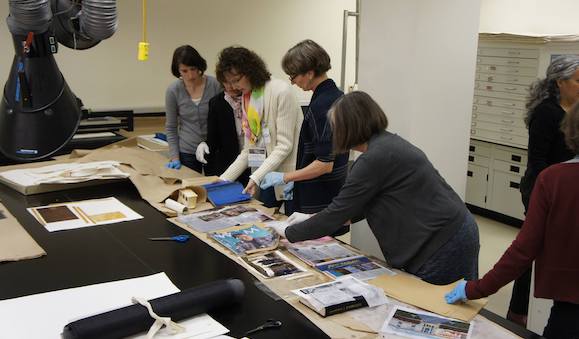 Update: September 14, 3:15PM: This workshop has been cancelled due to a lack of enrollment. If you need help, please email the Houston Archives Collective. 
This Saturday, September 16, from 1-5 p.m. in Houston, three Texas-based arts and recovery organizations will come together to host a workshop about how to handle and address damaged art and art materials, including documents and photographs. The hosts are the Houston Archives Collective, the Archivists of the Houston Area, and TX-CERA (Cultural Emergency Response Alliance), and the half-day workshop will be held at the McGovern Historical Center.
Via the hosts: "…this workshop is aimed at curators, artists, and other individuals in need of training on how to mitigate damage to art material." The workshop will be led by TX-CERA and "will include demonstrations, hands-on-activities, and presentations on a variety of materials and safety. Special consideration will be given to the arts."
It's FREE, but you must register, and registration is capped at 20. The contact for registration is Lisa Cruces at houstonarchivescollective@gmail.com or 713-743-9903. For more info, go here.
Disaster Recovery Workshop for the Arts:
Date: Saturday, September 16th. Time: 1 pm – 5 pm. Location: McGovern Historical Center, Houston.