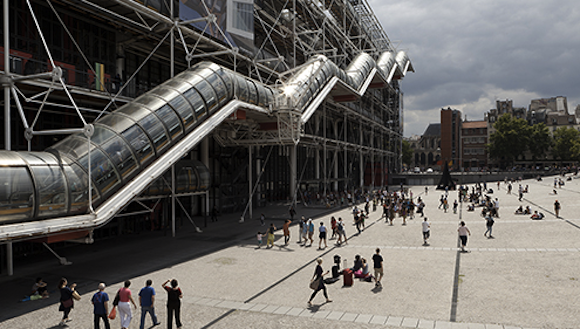 Employees at the Centre Pompidou (affectionately known by Parisians as the "Bo Bo," after the area of Beaubourg where the museum is located) have been on strike all week, making its soon-to-close Cy Twombly retrospective inaccessible, reports Hyperallergic.
The next time you walk past a museum guard standing for eight hours and usually enthusiastically educated about the artwork on display, take a moment to consider that person is working at a pathetic minimum wage or close to it. The French museum employees are set to be transitioned from "contract workers" to "civil servants," which is usually a good thing, except that contract workers at the Bo Bo have worked hard for their rights over the past 40 years. According to a union representative, "If the workers are made civil servants without maintaining their past gains, some could see their wages drop by up to 20% or 30%."
The French are well known for their love of art and their workers' strikes but, watch out, art lovers—it could be contagious!