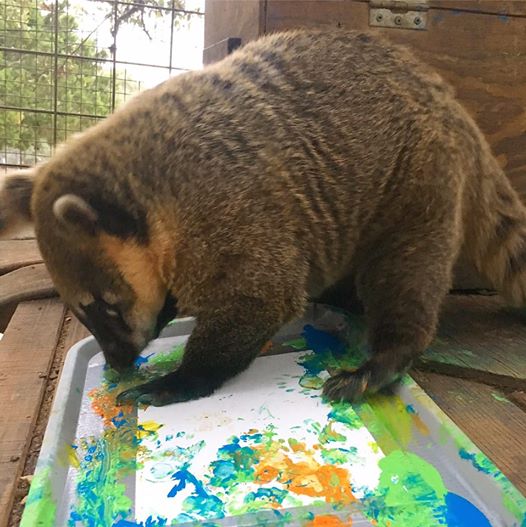 Do you need to get a last-minute holiday gift for that special someone who happens to have everything? Because they probably don't have a genuine, 100% authentic painting that was created by a Capuchin monkey!
Rusty, a primate at the Austin Zoo has begun creating watercolor paintings on construction paper, cardboard, and canvas—just like a real artist. Though Rusty churns out the most paintings, (there's always one), the zoo is also selling works by Rusty's compadres Lu, Katie, Scary Spice, Mulder and a brown lemur named Lele.
The monkey's paintings have already received an apt formal analysis (via artnet):
"The work evokes a jungle thicket, perhaps drawn from Rusty's youthful memories or informed imaginings of the wet lowland forests of the Caribbean coast in Costa Rica or Panama of its relatives' origins. Rusty complements the art with an interplay of seemingly incongruous yet somehow complementary shadings and accents of different hue—a spot of pink here, a streak of yellow there, a streak of aqua blue here—as if to convey the mystery and unpredictable nature of the native forest."
There you have it. Paintings start at $10. See them here.