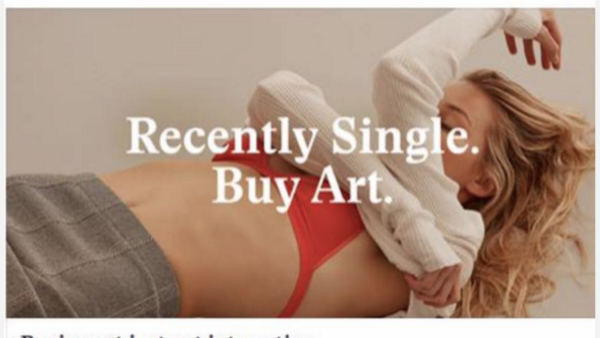 Twyla, a new Texas-based online art retail site, is barely out of the gate and is already besieged by criticism over its advertising and a hefty lawsuit aimed at its CEO over another business matter.
Twyla, Inc. is a well-funded Austin-based venture; its business model is to sell new print editions to people across the U.S. who want some art in their homes (but don't want to go to any galleries or art fairs?). It's not a new idea but its timing might be all right.
Twyla's chairman, Brian Sharples (former CEO of HomeAway) posted a Twyla ad on social media that Paddy Johnson at Art F City immediately pounced on as ""the most offensive art ad on the Internet." The ad, which showed a woman taking off her shirt and reads 'Recently single. Buy art.' disappeared soon after. These tech dudes don't know their audience? Or maybe they know exactly who they're selling to.
In the meantime (via Austin Business Journal): Twyla's CEO Matt Randall is being sued for "fraud and diverting money to fund his own startup" by the founders of the Pop Austin International Art Show. He's been accused of "defrauding Pop Austin's married co-founders, Steve and Lana Carlson, and using capital from Pop Austin to fund his own art company, which isn't specifically named in the July 2015 filing in Travis County District Court. They allege that Randall was enlisted by the Carlsons as Pop Austin's business manager based on false promises."
For more on that, go here.