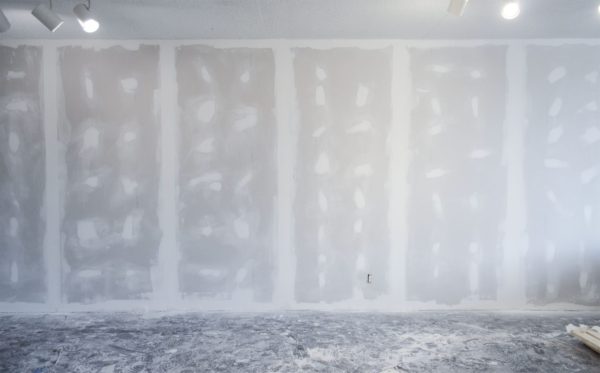 Ryder Richards' most recent performance work Invisible Hand took place at Beefhaus Gallery in Dallas for a couple of weeks recently, in the run up to the fall season. The show examined the politics of labor (very specifically from the point of view of the artist); institutional power is a recurring theme in Richards' work.
When I first spoke to Richards about this project, I admit to being flabbergasted. I think I said something like: "You actually propose to remodel the entire gallery for free, including buying all of the building materials and manually doing all the labor yourself?" To wit: "Are you out of your mind? Isn't that a reverse critique of the exploitation of the artist by institutions? Doesn't that action also actively participate in the gentrification that DIY's spaces are fighting against?"
Richards, good-naturedly, said yes to the above questions. His work can look deceptively simple, but it's always grounded in thoughtful theoretical discourse. He's incredibly well-read and spends a lot of time thinking about the role of the artist as a cultural conduit.
On September 24th, Richards performed four short "actions," while an audio recording played his thoughts about each action's theme:
Action 1: Invisible.
Excerpt from audio: "The idea of the white cube has been to create an ideologically pure space, allowing the space itself (the infrastructure of the gallery) to disappear… so the art can have a voice: the poor mute art which has no voice unless everyone and everything shuts up." 
Here Richards projected one-point-perspective images of white-cube spaces, serving as the template for Richards' charcoal drawings. He layered one drawing on top of the other, until all become obliterated.
Action 2: Labor.
Excerpt from audio: "Labor is the ultimate redaction, a perfect tool to make oneself invisible. Paying much better than art, labor might be my most valuable skill. The irony is I learned it taking care of art galleries and learning how to create art." 
Richards spray painted black lines on gallery wall using a wooden palette as a stencil.
Action 3: Politics.
Excerpt from audio: "Artists/Galleries feed the cultural consumption cycle: our labor goes into social, cultural value, which is freely consumed by the public. We do this out of passion or rage or ambition or whatever, but the point is that anything you do out of emotion means you will do it for free: a capitalist system does not need to pay you for the labor you will do anyway."
This action involved a ridiculous amount of labor/effect including drilling, bending metal, and employing many tie-down straps to ultimately make two lone marks on the wall.
Action 4: Identity.
Excerpt from audio: "At some point the coveted role of being an intellectual artist gave way to the inarguable, enviable success of the economic artist, often creating a product with a style that demands little and feels right. And this trend mimics the meme of the white cube: a quasi-generic, but branded, non-identifiable aesthetic allowing for greater success." 
The evening culminated with Richards in a handstand, assisted by two guys who held his legs. The artist lowered his head into a metal tray of black paint and then used his head as a human stamp to mark the wall.
Using humor and absurdity as a tactic to engage the audience is one of Richards' signature strategies. It also serves to balance the theoretical component of his work. During the following week, Richards remodeled the gallery, covering up his performative drawings. Thus, his newest works were to be hidden behind sheetrock (perhaps to be re-discovered one day).
On October 1st, Richards hosted an 'AA' meeting—an 'Artists' Anonymous' event—where artists were invited to come and share their stories about hitting rock bottom about their experience as artists. There was a confidentiality agreement going into it. Beforehand, I posed a few questions to Richards, such as would he follow the format of an AA meeting, and was it meant to be cathartic for participants. He answered with a tentative 'yes' to both questions. Clearly confidentiality was important to him for this exercise, and all comers were encouraged to actively participate rather than just observe.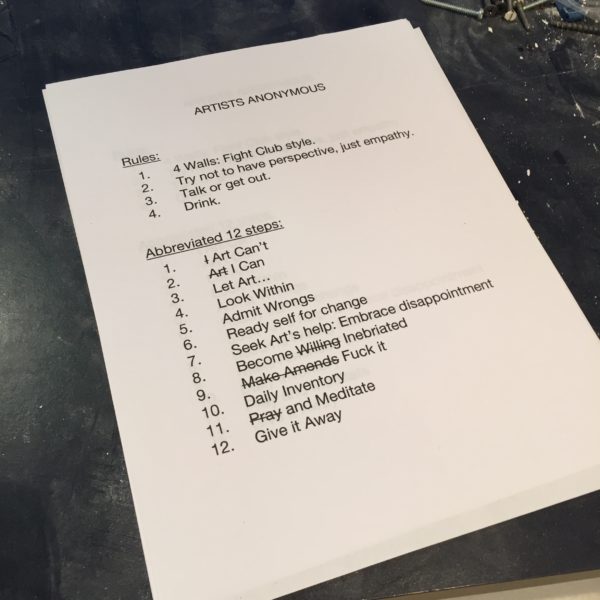 One friend expressed some hesitation over the event, because he thought it might be satirizing Alcoholics Anonymous meetings. But this wasn't Richards' intention. His purpose was to spark a conversation that isn't readily understood by people who aren't artists. The idea was that the artists' energies and stories would energize and populate the space, Beefhaus, before it turned back into the "institution." Like Richards' hidden drawings, the stories became embedded in the architecture.
So what exactly did Richards' efforts reap, besides Beefhaus getting a make-over? I keep coming back to recent events as Dallas' fire marshal officers are closing and threatening to close smaller galleries and DIY spaces (including Beefhaus, which recently secured its certificate of occupancy). When Richards proposed the project a year ago, he couldn't have predicted that the city itself would target artists and non-traditional art spaces.
But his actions serve as a testament to power of the individual. In a time when so many people feel powerless to affect change (including this country's despair over the current political environment), Richards' gestures challenge authoritarian power structures—albeit in a non-confrontational manner—which is much more subversive, and I think more effective.
Ryder Richards' INVISIBLE HAND took place at Beefhaus in Dallas from September 24- October 7, 2016.
(most photos here: Colette Copeland)