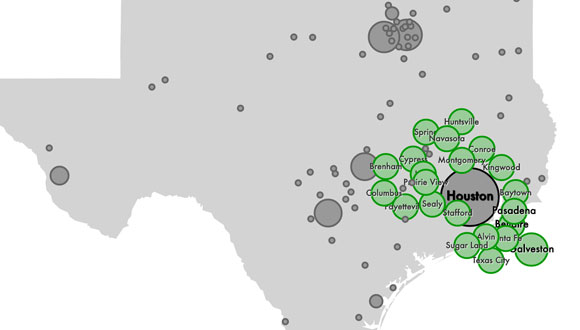 This year we are celebrating Glasstire's 15th anniversary! Launched by Rainey Knudson in 2001, today we are the oldest online-only art magazine in the country.
To mark the occasion, we asked professional data miner Diego Garcia-Olano to comb through our vast archive of 18,000 events and 10,000 articles, to find interesting patterns and relationships among the artists, writers, and venues of Texas. This fall, we are rolling out four different "interactive infographics" (i.e. maps and graphs you can click on to look at relationships between the data). These infographics will allow you to measure up our writers, discover how artists in Texas are connected, and find out what the demographic breakdown of the Texas visual art scene is. More about the project here.
Our first data mining project is a map of Texas with events by city and year, starting in 2007:
Some of the information is unsurprising—for example, Houston has the most visual art events in the state, followed by Dallas and Austin—but we made some surprising discoveries poking around the interactive map. Did you know there is art to be seen at Brookhaven College in Farmers Branch, or The Beyond Gallery in Harlingen, or the South Texas College Library Art Gallery in McAllen? Did you know that the city with the most events outside the "Texas Triangle" is Lubbock? Trying to remember when the racy "Art and Love in Renaissance Italy" show was at the Kimbell Art Museum? Now you can find out. (It was in 2009.)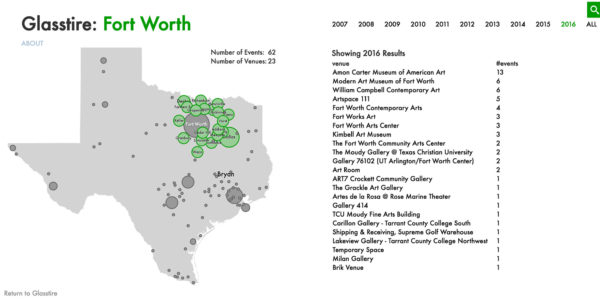 When you click on a city in our map, you'll see all the venues with events that year (the default is ALL years). Click on a year to see those results — above, we've selected "Fort Worth" and "2016."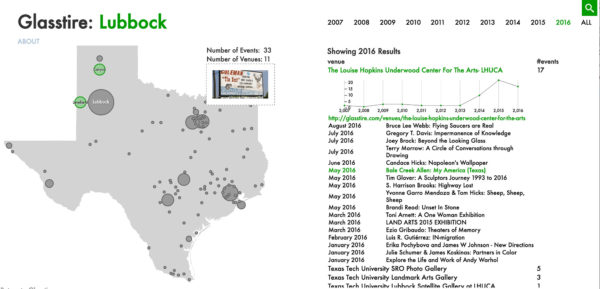 Next you can click on a venue from the list on the right, and see all their listings for that year. Hover over an individual event, and you'll see a thumbnail image from that show.
We hope you enjoy virtually exploring art in the state of Texas via our map. Each infographic will be a living system that continues to draw on our database going into the future, so check back anytime to see up-to-date information.
Part II: all the words we've ever used.
Part III: our Authors