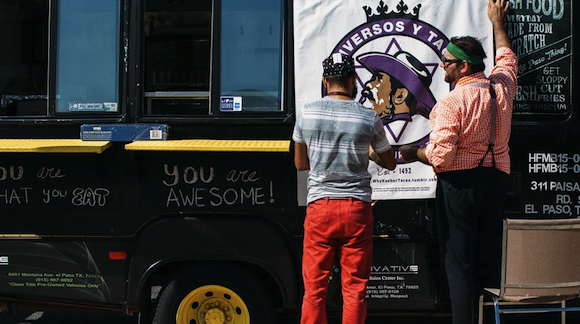 Multimedia artist Peter Svarzbein grew up in El Paso, went off to New York to attend the School of Visual Arts (SVA), and eventually made his way back to El Paso where he now serves on the City Council. But he still makes art.
"Starting 10 years ago I began to work on a body of work photographing and interviewing Latino families who have made an effort to return or convert to Judaism, believing that they were descendants of forced Jewish Converts to Catholicism, (aka Conversos), " Svarzbein told the El Paso Herald-Post. "I travelled from Mexicali to Midland, Texas collecting images and stories along the way. Wanting to show this work in a way where it could be seen by a large group of people, a light bulb went off in my head and my belly growled and I knew El Paso needed some delicious Kosher Tacos as a way to create a space to talk about this interesting and relatively unknown aspect between our shared Spanish and Jewish histories." Thus, the "Conversos y Tacos Kosher Gourmet Trucks est. 1492" was born.
Although the food truck was recently listed as on the 9 Best Kosher Food Trucks in the United States by JTA and Haaretz, Svarzbein only brings it out for special occasions, once taking it to NYC. Tomorrow evening, August 20, it will be parked at El Paso's B'nai Zion Synagogue, 805 Cherry Hill Lane.
But he may take the project on the road. "I'm looking for this tour to be a beginning towards the ultimate destination. A road trip down the Historic Camino Real Road, one of the oldest highways of the Americas, driving a kosher taco truck from Santa Fe, New Mexico to Mexico City."