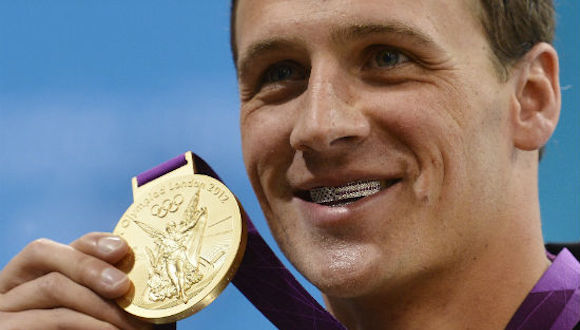 For the past week and a half, 207 nations and 11,178 athletes have been battling it out in Rio for the 2016 Summer Olympic Games. This year's festivities have not been without their problems—Rio has faced criticisms surrounding their political atmosphere, their socioeconomic conditions, and even the water in which Olympians are swimming (hint: it's contaminated). But through it all, we have a certain light shining through the darkness: Ryan Lochte.
If you don't follow Lochte's non-swimming shenanigans, here's the scoop: he briefly flirted with the idea of having a clothing line; he designed a custom pair of rhinestone-studded shoes for Speedo; he is currently selling a workout DVD called Lochte Hardcore Workout. (As for swimming: he has won twelve Olympic medals.) Also, he tried to wear a custom stars and stripes grill on the Olympic podium.
It just so happens that Lochte also makes art! When he's not swimming his heart out or getting robbed, Lochte enjoys creating art that "looks a lot like stuff the pothead next to you in psych 101 drew when he was super bored." Perhaps we should let Lochte explain his artistic inspirations:
Maybe Lochte should stick to swimming, jeah?
h/t Jezebel