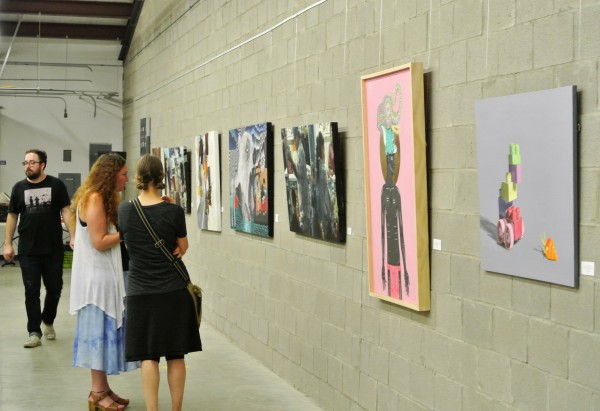 The Art Room, an art space in Fort Worth, came into being when M2G Ventures, local landlords, approached painter Katie Murray and offered her part of their building on Weisenberger Street to use as an art gallery. The "Room" is 4000 square feet, and half consists of finished white walls while half is a concrete cinder-block wall. Murray brought in Nathan Madrid who she met in grad school at TWU as a co-curator for a temporary gallery concept, and they've so far organized three shows in the warehouse space, starting on Spring Gallery Night last March. Both Murray and Madrid have backgrounds in graphic design, so it's not surprising that handsome catalogs have been produced for each exhibition.
The current exhibit, THREE, expands on the space's base of local emerging artists and brings in several artists new to this area with some regional, national and international connections. Madrid met several of the artists when he attended the Academy of Art in San Francisco and while he was a Hunting Prize finalist here in Texas. (Madrid and Murray also admitted to combing Instagram to look for interesting artists.) The artists in THREE use considerable wit and pathos to create everything from a revisited Baroque ceiling painting to a staged deployment of toys. All of the work in the show is meant to address our current political climate.
The most notable work in the show is Robert Weiss's painting The Grand Illusion. It directly borrows its figural groupings from a portion of Giovanni Battista Tiepolo's vast staircase fresco for the Würzberg Residence in Germany. Weiss focuses on a detail from the southeast corner of the original fresco that includes the famous self-portrait of Tiepolo with his son Domenico, but in Weiss' appropriation, his distortions evoke Goya or even Bacon. The change is eerie. Weiss is also a documentary filmmaker, and his painting Dale Carter in his Parlor depicts the subject of his current film project as nearly lost in the gloom of his cluttered Victorian mansion. Weiss's Abstract #4 strongly contrasts with his more conventional compositions with its free-ranging series of fragments; there may or may not be a traceable narrative here for the viewer.
Jacqueline Chubirka, who professionally identifies herself with her lowercased last name only, is the lone woman artist in the show. chubirka's work ranges from sly political humor to empathetic portraits. Her painting words that start with the letter B is the recognizable face of Dubya under a Mickey Mouse hat (and bacon!). It is from her Somebody's Got to Pay Series, which she describes in an email as "my mental revenge toward the Corporatocracy and its media puppets." CosmeticMao, like Weiss's post-Tiepolo romp, is a spin-off from a famous work, in this case Andy Warhol's iconic portrait of Mao. But she transforms Mao's face with giant lipsticks (or maybe they're sausages?)—in either case, she intends for works in her Mao series to "initiate conversations critical of the current practices of marketing to the masses." In other words, she has her eye on the new China. In contrast, her works carni_grab9 (a complex scene from the Texas State Fair with cropped figures) and The Artist's Son are more generous and sensitive toward their subjects.
Usama Khalid's family immigrated to the U.S. from Pakistan; his cultural history leads him to address concerns such as terrorism and national identity. Two of his paintings are abstract portraits made of highly textured oil paint, acrylic paint, charcoal, and copic marker. "The layers of media are meant to represent all the facets of that individual," Khalid says. The title of one of his paintings, Quaid-i-azam means "great leader" in Urdu, and the other is the poet Allama Iqbal. These figures are revered by many Pakistanis, but also controversial for their support of the partition of India to create Pakistan. The artist admits to feeling a disconnect from his heritage and he feels "the same way about the culture and people here… since I was a child I have been ostracized due to my heritage and name."
Zachary Seth Greer's The Present Melting the Yet to Be depicts apocalyptic destruction of our environment. The dominant image of a polar bear's head is the symbolic focus of climate change and habitat destruction; stylized toxic emissions rise from smokestacks, while a floating capsule suggests yet another contaminant in our waterways. Greer typically places adolescents in his paintings, commenting in the show catalog that "The Millennials, raised on a steady diet of future shock, feel the weight of tomorrow pressing in on them as few generations ever have… ."
Jave Yoshimoto's four serigraphs are a much smaller reflection of his output than the impressive collection of his original watercolors recently displayed at Fort Worth Community Arts Center, but these examples are nonetheless good. Venus of Trash Isle is characteristic of his meticulous attention to detail. The partially nude, mermaid/octopus figure reclines on a trash-strewn beach, surrounded by evidence of the effects of human pollution on the natural world as birds and other animals are strangled or choke on discarded plastics. In some of his works, Yoshimoto underscores the threat to the environment by inserting Godzilla as a mute witness to the destructive natural forces unleashed by humankind's shortsightedness. These are detailed scenes, rendered with complex color and the tilted perspective typical of Japanese woodblock printing. Yoshimoto's art demonstrates a kind of karmic cycle—humans pollute and destroy, and of course in turn they become victims of nature's power.
Shawn Vales is a native New Yorker who now lives in the San Francisco bay area. Three oil paintings from Vales' Involution series are included here. The delicate oil painting Involution 25 shows the complex energy of earth, fire and water.
Some of the weight of these artists' works are balanced by a bit of humor in Daryl Gannon's work. Gannon is a former Londoner who now lives in Houston. Gannon says that "anything can happen next, and probably will." The Extent of an Unpredicted Event is typical of his paintings in which children's toys and Legos face off.
Eric Rodriguez goes by the professional name Drigo, and his paintings (also playful) were recently featured in a solo show at Atama in Dallas. Drigo's paintings contain multi-colored humanoids who he describes as "indigenous characters," combined with references to familiar cartoon figures (reminiscent of Kenny Scharf's work). Short Cut, in acrylic, spray paint and gouache is a prime example. In the past Drigo has explained, "These indigenous people or aborigines iv [sic] been painting with these cartoon masks have been astral traveling, but the sub dimension or whatever they're projecting to, is the cartoon realm. The cartoon masks they wear kind of represent them trying to fit in or trying to go un noticed kind of [sic]."
The theme of pollution recurs in the only sculptural work in the show by Dana Younger. (Younger's day job is managing a group of writers, designers and fabricators for Texas Parks and Wildlife.) In his series of what appears to be six crushed cans mounted to plastic panels, the cans are textured with cross-hatching which makes clear, on closer examination, that they are not actual aluminum cans, but sculptural representations.
This is the last show for the Art Room in the Weisenberger space. But Murray and Madrid have plans to continue on to a larger space, one block over (on Whitmore) with a Fall Gallery Night show. (The Weisenberger space will be taken over by art collective ArtTooth.) Murray says: "I feel like we've created something that Fort Worth was yearning for… we feel we've created a place connected to [the] art community in a non-traditional setting."
Through July 27 at the Art Room, 2712 Weisenberger Street, Fort Worth. By appointment only: [email protected]; 972.849.8900.