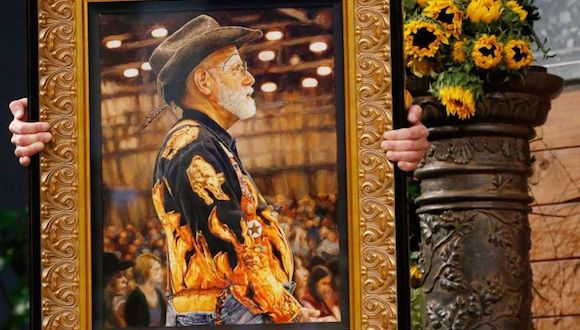 Apparently some art lovers in Houston aren't hurting from tanking oil prices: this week, a painting of a clown by a 16-year-old sold for $220,000 at the Houston Livestock Show and Rodeo. The painting, by Katy-area high schooler Lucy Chen, was named the Reserve Grand Champion at the rodeo's annual art auction. This isn't the first time Chen has sold a painting for six digits—in 2014 her painting in the rodeo auction sold for $196,000.
Don't be too despondent, professional artists: through both of the sales, Chen only received a total of $29,000, which may be more than most artists earn in a year but is still far less than what she would have gotten in the usual 50-50 gallery/artist split. The remainder of the money goes to the Rodeo for its education programs, through which the Rodeo claims to "challenge students and schools to think outside the box," despite the fact that all the winners are realistic drawings or paintings of Western-themed subject matter.
As for the Grand Champion at this year's auction, 18-year-old Brandon Leal of Pasadena created a realistic drawing of rodeo cowboys titled Camaraderie Like No Other, and sold it for $185,000. And the entire art auction at this year's rodeo brought in just under $2 million! Whee!