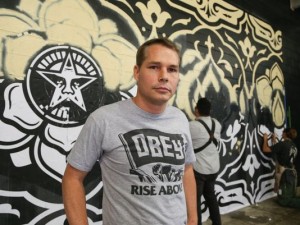 Remember this post? Well, as Fairey was re-entering the country in Los Angeles on Monday, he was arrested in connection with that felony warrant issued recently in Detroit. BUT: Detroit authorities chose not to extradite him. So Fairey was released.
According to the Detroit Free Press: "…police are working with his attorney to try to get him to turn himself in, Detroit Police Officer Nicole Kirkwood said."
Desperado, why don't you come to your senses? You been out ridin' fences for so long now.
Oh, nevermind.