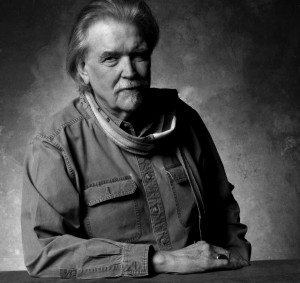 For some music news on your Saturday: Guy Clark was one of five acts inducted to the Austin City Limits Hall of Fame on Thursday night, but instead of enjoying the ceremony at the Moody Theater he spent the night in an Austin hospital. Clark, 73, was taken by ambulance to an area hospital, and according to ACL producer Terry Lickona (via Billboard.com) had "apparently had a bad reaction to medication he's been taking for some recent surgery."
Guy Clark's Facebook page was updated (not sure of the poster) last night to read:
I'm sorry this update didn't come sooner but this is as quick as I could get to it. Many of you have seen the news stories about Guy collapsing at the Austin City Limits Hall of Fame event last night. The trip from Nashville was rough on him and he did indeed get sick and have to be taken by ambulance to the hospital. His Austin doctor was on top of things and they did a battery of tests and kept him overnight. The last I heard he was doing much better and they were releasing him from the hospital. His vitals are good and the MRI showed no stroke or any such event. I have not seen him since he collapsed as I had to fly to Phoenix this morning to visit my mother. Guy's sisters are with him in Austin, as is his caretaker Joy along with his long time doctor so I know he is in good hands.
It's a shame that Guy missed the tribute to him. It was lovely. Lyle Lovett sang "Step Inside This House" and "Anyhow I Love You" and presented the award (and, as it turns out, also accepted on Guy's behalf). Jason Isbell sang "Desperados Waiting For A Train" and "Black Diamond Strings." I'm sure Guy is disappointed to have missed it.
The other inductees were Loretta Lynn, Flaco Jimenez, the late Townes Van Zandt and Asleep at the Wheel. The list of performers for the evening is impressive, and the night was hosted by Dwight Yoakam.
Godspeed, Guy.
For more info on Guy Clark and the ceremony, go here.