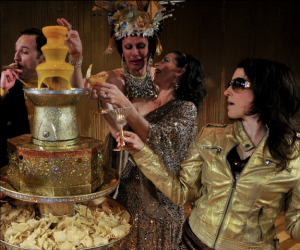 The Austin-based Rude Mechs (really Rude Mechanicals) is one of the most important things to happen to underground theater and performance in the state and really the country; since 1995 the founders and the collective have been creating some of the most original, strange, and uncategorizable theater-meets-art content since the Wooster Group. (One of the most memorable off-off-Broadway performances I've ever seen in NYC was in 2001; it was a Rude Mechs' performance called Lipstick Traces, inspired by Greil Marcus' opus of the history of the 20th Century, starring variations on characters modeled on John Lydon and Malcolm McLaren.)
Founded in 1995, Rude Mechs often tours and/or parcels out original material to other groups in other cities, but the collective itself has never performed one of its original plays on a Dallas stage until this week.
Rude Mechs will be at the Wyly Theater for three nights starting this Thursday to perform Stop Hitting Yourself, as part of AT&T Performing Arts Centers Off Broadway on Flora series.
Via AT&T Performing Arts Center: "With Stop Hitting Yourself, Rude Mechs is embracing the fundamental beliefs underlying late-stage capitalism and indulging in our version of 1930's Hollywood glamour."
Go go go! Here's all your info.