In the midst of the current problems in Baltimore, the public schools reopen today but, after two postponements, the Orioles' home game this afternoon against the Chicago White Sox will be closed to fans. This is the first time in the sport's 145-year history officials have taken this action.
Also, many of the city's museums have remained closed. The Baltimore Museum of Art posted the following on its website:
Thank you everyone for your concern about the BMA. We are so grateful for your support at this time of unrest in our city. The Museum is closed, as always, on Mondays and Tuesdays, and was not impacted during yesterday's events.
The museum and its offices will be closed on Wednesday so that our team can be home with their families and help their communities during this difficult time in our city.
The Walters Art Museum is open today, but Baltimore's American Visionary Art Museum has postponed this Saturday's annual Kinetic Sculpture Race with this announcement:
The Baltimore City Mayor's Office has offered additional security for our beloved race, now in its 17th year, that has always been dedicated to the delight, communal participation, peace and love of our City. We are working with city officials now to find a new date for the race that will allow as many people as possible to safely enjoy this special community event.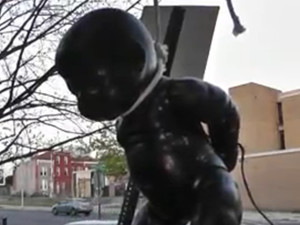 But art can still be viewed outside the West Baltimore studio of artist Loring Cornish. The artist has hanged about 40 black dolls of various shapes and sizes from nooses in a nearby tree. The display has been up since April 13, following the death of Walter Scott in South Carolina two weeks earlier. The installation reads, "LYNCHING STILLS EXIST, WHITE POLICE USE BULLETS AND LAW TO LYNCH BLACKS LEGALLY. REST IN PEACE TO THOSE WHO WERE LYNCHED YESTERDAY & TODAY." According to Baltimore's ABC news affiliate, the neighborhood is divided between opinions about the installation: it's either crazy or bold.