Houston's CounterCurrent festival kicks off its second year of experimental, multidisciplinary art exploration this week, presenting six days of free-admission audiovisual installations, live performances, participatory events, and discussions in spaces all around the city. While it features artists from around the world, it's grounded by many collaborations with regional artists and organizations. For the opening night event this Tuesday (April 14), CounterCurrent producers at the University of Houston's Cynthia Woods Mitchell Center have teamed up with media arts organization Aurora Picture Show to present a live, site-specific, interactive audiovisual work by Austin-based artist Luke Savisky.

Savisky is now probably best known for his large-scale interactive works transforming natural and architectural spaces, such as his projections of participants' bodies on four abandoned silos in Houston's East End (his first collaboration with the Aurora Picture Show in 2010) and his projections of viewers' eyes on a historic, 85-foot-tall water tower in Austin. But way back before there were buzzwords, digital tools, or funding for such flickering spectacles, Luke Saviski was a bit of a cult figure–a weirdo D.I.Y. light slinger with a truckload of film projectors and a handful of 16mm loops. When he studied art at UT Austin in the 1980s, there was no focus on interdisciplinary, transmedia arts. But he learned how to make film loops in his classes with installation artist Bill Lundberg and soon began exploring the possibilities of multiple-projection and flexible film exhibition outside of the confines of a single-screen movie theater. Since then, he's been ringmaster of countless mesmerizing audiovisual experiences–his own installations and live events as well as collaborations with bands around the world. His pioneering work as a film artist in the analog era set a good groundwork for his recent work–refined, often meditative, interactive video installations that fuse people and place.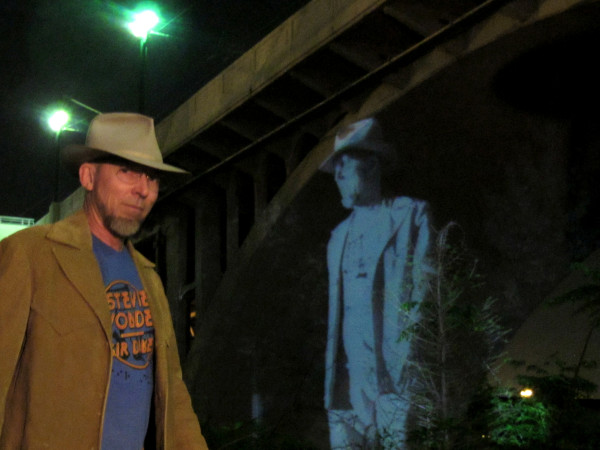 I caught up with Saviski at a recent site visit preparing for his upcoming Houston piece, Ht/X. A large arch on the underside of the Allen's Landing bridge downtown will be the medium for his live, layered projections of participants' movements mixed with abstract imagery and footage of rippling water reflections. The site–an interesting intersection of water, plants, city streets, and structures that often goes unnoticed–is perfect for this piece about transformation. The faint echoes of traffic and passing trains will mix nicely with ambient music created for the work by Stars of the Lid–a group with which Saviski has collaborated for more than a decade and will be working with in a cathedral outside of Vienna soon after this engagement. Of course, no one knows exactly what to expect­ Tuesday–including Saviski. "With what I do, it's always the first time. So I'm looking forward to seeing what happens."
He told me that he finds Houston audiences particularly open and interested in these kinds of works. "They have a good feel for this kind of thing. They're familiar with projections, and are ready to adapt." That's key to his live, site-specific experiments, and in contrast to some places–particularly at smaller European engagements–where it takes audiences some time for the concept to sink in. "Sometimes I have people coming up after a show saying 'Ok, nooow I get it. When are you coming back?'"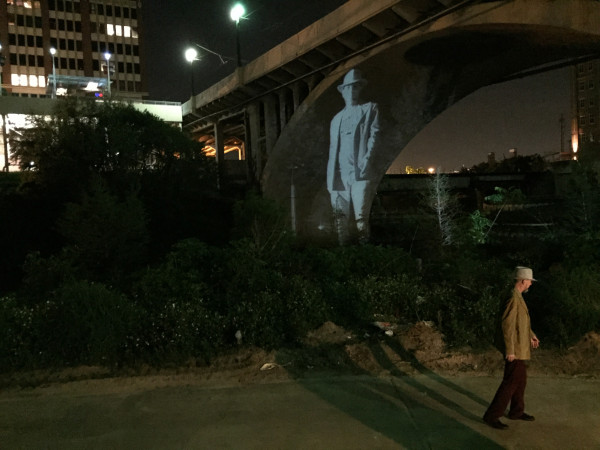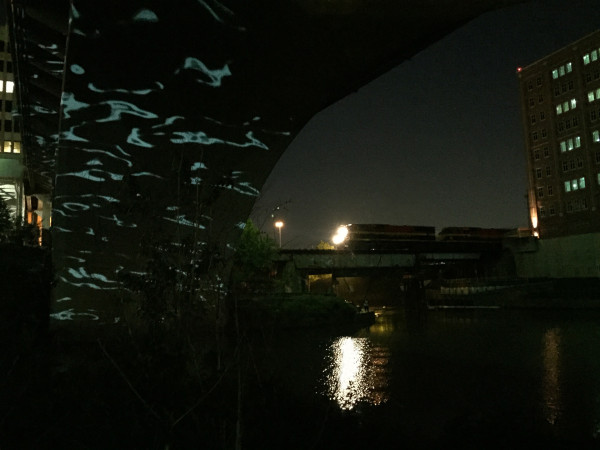 I recommend hanging under–and merging with–the bridge Tuesday evening for this unique audiovisual experience opening Counter Current 15. Afterwards, head to the nearby OKRA Charity Saloon for the festival's opening party, where you can plan for the coming week's art outings.
Counter Current 15: Ht/X with Luke Savisky happens Tuesday, April 14, 8:30-10pm at Allen's Landing (1001 Commerce Street). The festival opening night party follows at OKRA Charity Saloon (924 Congress Avenue), 9PM until close. Admission is free, but online ticket reservations are recommended.