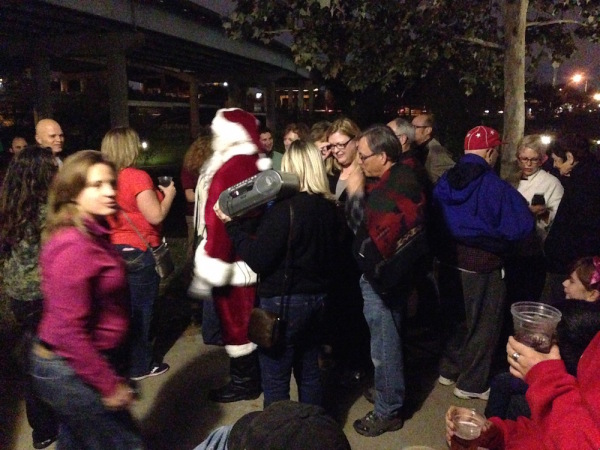 Last Thursday, three hundred people, Santa, and I gathered in the shadow of the Sabine St. Lofts in Houston, absorbing free beer, many smores, and a little hot chocolate as we waited to begin the Unsilent Night. Tonight, it's Austin's turn.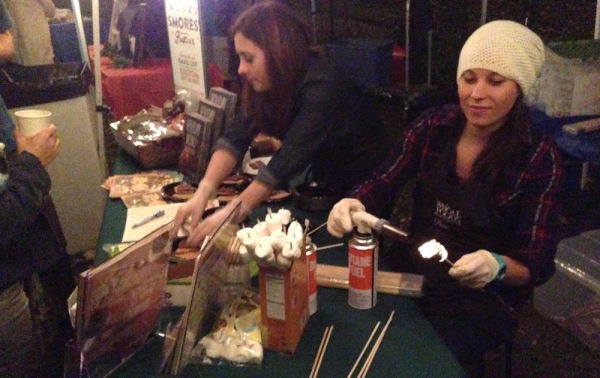 Back in 1992, composer Phil Kline originally intended the piece for boom boxes, a sort of loud, take-back-the-streets affair for New Yorkers and snow. Four interrelated instrumental tracks reflect Unsilent Night's northern roots: sparse, high-pitched chimes conjure images of twinkling icicles, not humid bayou, but playing winter wonderland in a t-shirt on a 68˚ December night reminds you of what's nice about Houston.
The Houston version of the event was a procession harking back to a hundred archetypes: Posadas, passeggios, caroling, except you don't need a lyric sheet, or a belief in any particular faith system. Instead, Unsilent Night evokes the kind of secular spirituality that art's good at: whether its the denatured Judaism of Rothko or the sun-bleached Zen of Agnes Martin, we can all feel it and believe in it, because its reduced to the acknowledgement of the aesthetic, or the divine, or the whatever, without any specific mythology or ethics to argue over.
We wound along the broad new sidewalk overlooking the Bayou, under freeways and over footbridges. I biked this route in just a week ago, and it's much better in the dark. The muddy concrete and raw landscaping of the new bayou-side improvements are all hidden. We followed a winding necklace of streetlamps through a fairyland, with the downtown skyline reflecting in water that might be mistaken for the Danube.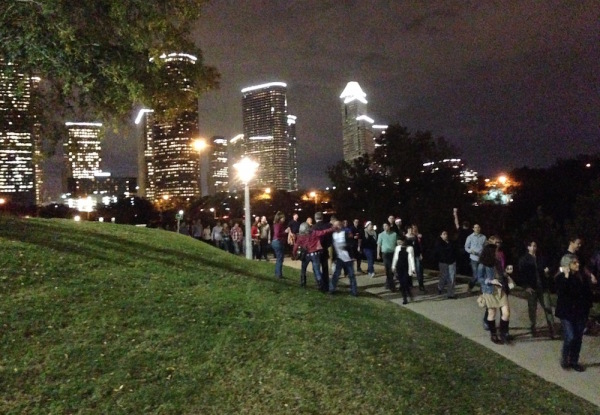 There's a hunger for a nondenominational nighttime holiday ramble: Unsilent Night will be enacted this year in 43 cities. In Texas, McAllen, Austin, Houston and Fort Worth are all hosting local variants. Kline himself led "a massive chorus of boom boxes" from Washington Square Park to Tompkins Square Park in Manhattan for the 23rd iteration of the flagship event.
Though it's a franchise operation, with its own website and app, Kline's organization leaves a lot of room for local input: in McAllen, the piece was termed a "sound sculpture" in Fort Worth, a "dance opportunity." Tonight, in Austin, it's a bike ride. Part flash mob (remember the flash mob?) part avant-garde musical performance, Unsilent Night is one of those rare cross-genre happenings that might catch on.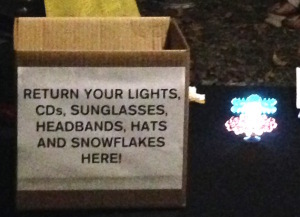 Unsilent Night Austin (on bikes!) took place on December 15, at 7pm beginning at the Texas State Capitol.
In Fort Worth, Unsilent Night happens December 20, with people gathering at Magnolia Green Park, 1201 Lipscomb St., at 7:00pm and traveling up and down Magnolia Avenue.
Unsilent Night Houston, organized by the University of Houston's Mitchell Center, happened on December 11. Unsilent Night McAllen was on December 5.