As part of the meticulously curated Menil exhibition Experiments with Truth: Gandhi and Images of Nonviolence, five animated short films from William Kentridge's Drawings for Projection series are on display. Four of the five were made between 1989 and 2003, and the fifth is a more recent work from 2011. All feature the post-apartheid South African industrialist and land developer – Soho Eckstein – as protagonist.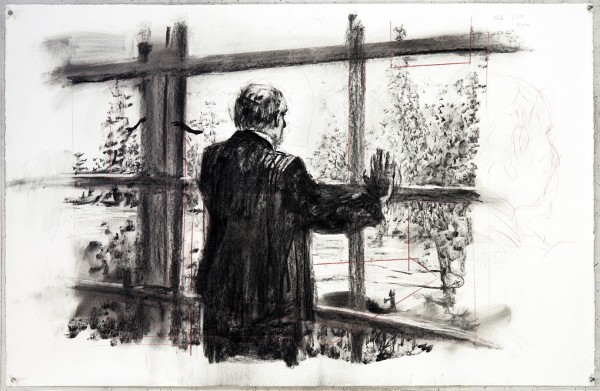 Born in Johannesburg in 1955, Kentridge is perhaps South Africa's best-known artist. His early education was in Politics and African Studies, and he later studied at the Jacques Lecoq International School of Theatre in Paris. As an artist, his background in theater is obvious, performing Shostakovich's operatic transposition of Nikolai Gogol's The Nose to wide acclaim in New York and Lyon, France. But his continued interest in politics is evident as well, not only in that production, but certainly also in his film works.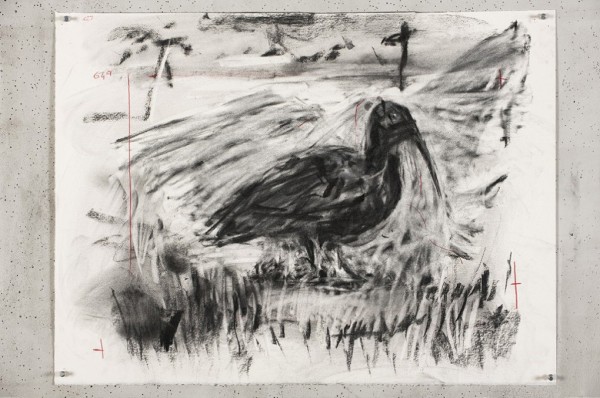 Kentridge first developed his innovative process of drawn animation in 1989 with the film Johannesburg, 2nd Greatest City after Paris, which is included in the exhibition.   The process is laborious, wherein Kentridge threads together photographs of key drawings that have been progressively erased and overdrawn on the same surface. With each tiny addition or erasure, Kentridge must walk from the drawing board to the mounted camera and take a photograph, then return to the drawing in order to execute the next tiny change. With this painstaking months-long process, Kentridge creates a cinematic palimpsest that evokes a palpable sense of the passing of time as his film unfolds.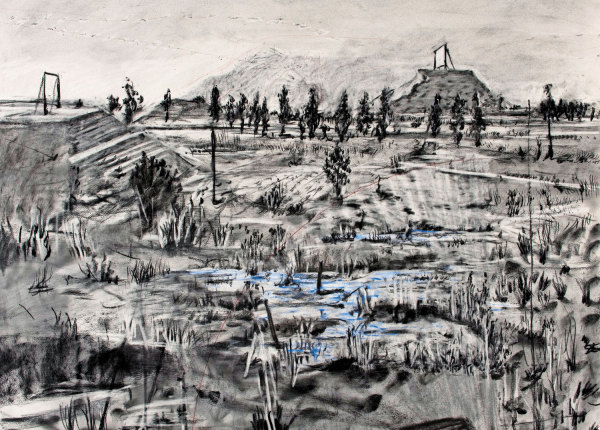 The most evocative of the exhibited works is his latest: Other Faces from 2011, with a musical score by the noted composer Philip Miller, also of South Africa. It was made with the same drawings for projection method as the earlier films, so it is very much a work about the passage of time – starkly portraying the social and xenophobic tensions that have existed and remain in the city of Johannesburg. But it is also a poignant portrayal of the power and emotion of memory. Past and present images of streets and landscapes appear, change, and disappear throughout the film. Early in the narrative, an auto-collision occurs between Eckstein (who is white) and a black preacher. A crowd gathers; a vehement argument ensues. The film then dissolves into Eckstein's reflections on the event and his prior interactions with the preacher, intermingled with flashbacks from his own life. To highlight the disorderly nature of memory, his reflections are interrupted by visualizations of his financial ponderings. These reflections and flashbacks, when combined with Kentridge's drawing process and the emotive musical score, perfectly encapsulate the process of memory and underscore the weight and emotion it entails.

With the ubiquity of digital media practices, Kentridge's use of celluloid film projection and traditional drawing methods feels unconventional, even avant-garde, lending the work a cinematic quality that intensifies the evocative response to the politically charged subject matter. And since the photograph is ostensibly a document of something that actually existed at some time, Other Faces assumes the feel of reportage, as if we are witnessing certain events from the struggle against colonialism in South Africa's turbulent past.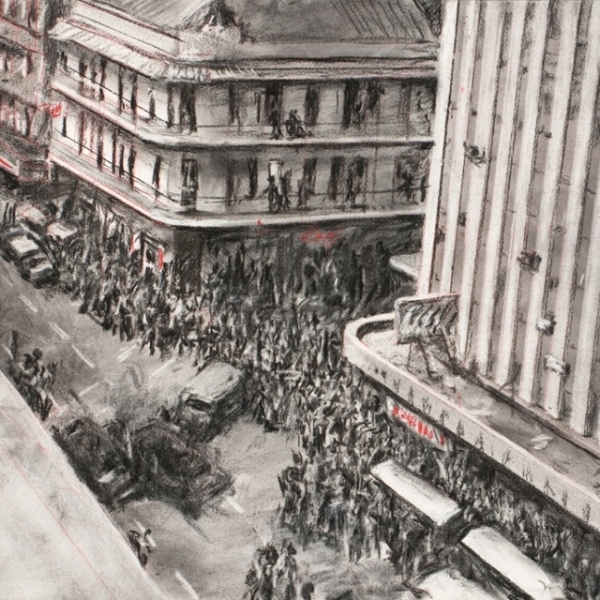 Regrettably, though, this is not solely a view of the past. Racial and ethnic tensions have lingered powerfully. In the same way that Kentridge's lines don't completely disappear as his drawings progress: even though Apartheid is ended, the tension and strife remains, both in memory and in daily life.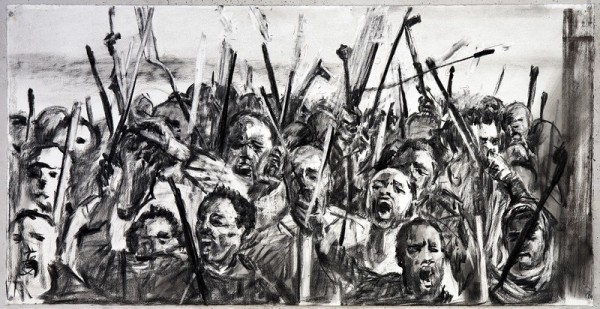 Other Faces is wonderfully poetic and certainly fits nicely into the theme of the exhibition, contributing materially to its overall success. It's a must-see, and will remain on view at Houston's Menil Collection through January 30th.
Terry Mahaffey is an independent writer living in Houston. He received an MLA in Art History from the University of St. Thomas in 2010.