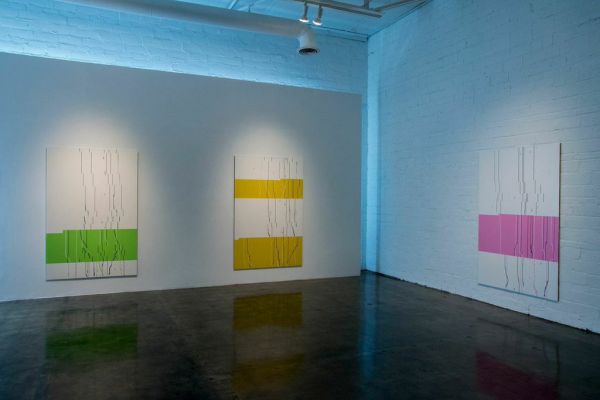 With "Digital-Distraction," his current show at Barry Whistler Gallery, John Pomara continues to investigate painting issues he has refined for more than two decades. Marks, surfaces, technologically derived iconography, precision and error are his pictorial territory. But something new has arrived this time out.
A few years ago, I interviewed Pomara for an essay on some tendencies in Dallas abstract painting. At that time he spoke of a cultural shift in how we look at paintings. For Pomara, experiencing a painting as though one were looking through an imaginary window – an old perceptual habit which had already undergone the assaults of high modernism, Greenbergian formalism and pictorial flatness – had been more recently replaced by the widely shared experience of looking at a screen: computer, TV, smartphone, tablet. Unlike elite modernist art theory, this was a wider cultural experience, a democratized perceptual change. Looking at has replaced looking through.
For all its internal logic and mathematical structure, for all its binary rationality, the computer changes the experience of pictorial space in strange and irrational ways. That's why there is usually no air, no insideness, in Pomara's paintings.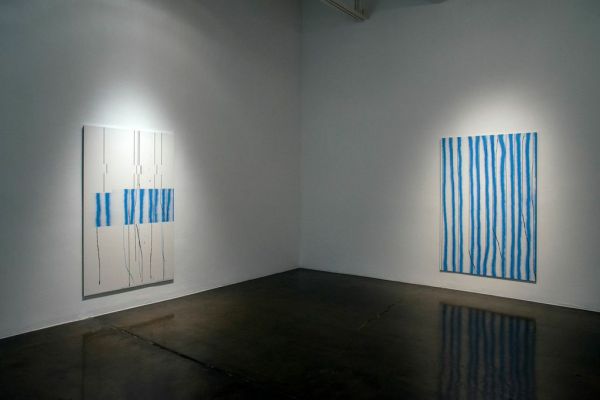 With this in mind, Pomara's job is to make the logic device screw up. Typically, he massages digital input through multiple stages of image replication, each iteration a bit less correct than what preceded it. When the output is almost all error – marred by machines – he painstakingly reproduces it using enamel on aluminum. The resulting texture is lush and smooth with slight indentations that record the passage of a tool through the paint. (I'm reminded of a cook reducing a sauce until it coats the back of a spoon and she can draw a line in it with a fingernail.) It's an exacting, unforgiving process that requires precise timing. If the enamel isn't at the right viscosity, the marks will fail. If his timing is right, he achieves a rich texture that looks both solid and creamy with marks embedded in it, in an elegant unity of mark and surface.
Helter-Skelter (2014) is a beautiful example of this. Narrow, pixelated vertical marks meander through a viscous white ground like a delicious copy of black drips lifted from the background of an eight-bit video game and sensually remade. As is his practice, Pomara laid out the marks with specially cut stencils, precisely reproducing the forced errors of logical machines. And then, using his hands and a squeegee-like tool, he drove the marks back into their ground. They seem to move through the surface, and not sit on it.
Just up from the bottom of the painting, a horizontal band of acidic green splits the picture plane at a place where his digi-dribbles undergo numerous small jumps and breaks and are largely untouched by his squeegee. The other paintings in the room follow a similar pattern: bands of pink, pale blue, and yellow split the white ground and alter the textures of the paintings. In a literal sense, these breaks represent the divide reference in the show's title.
In a few of the show's paintings, other textures have begun to appear in the glossy surfaces. There are places in a diptych titled His and Hers where the oil enamel has sagged under its own weight because Pomara turned the panels upright before the paint was firm enough to resist gravity. A painting titled Looney Tunes bears a spot in the middle right where the surface was bumped and the perfect shine was fatally marred. He would never have shown these errors before now. That he has decided to do so indicates a new aesthetic development.
Sags and scabs have always been potentially present in the almost perfect skins of his paintings. The mistakes in these new paintings manifest a latent material reality of all his work. The logic of hand making digital failures almost has to lead to analog errors.
He attacked the damaged works with spray enamel. And the spray enamel has crazed in several passages, further undoing the smooth unity of his usual vocabulary. This is an analog (hands-on) response to a digital image that has failed twice. A digitally produced error and a damaged analog copy of the digital output have been folded into themselves.
I feel the need to say all that at one time because I can see it all at one time in the painting's wonderfully imperfect surface. The immediacy is almost urgent.
Through Nov. 29 at Barry Whistler Gallery, Dallas.