Samuel S. Holland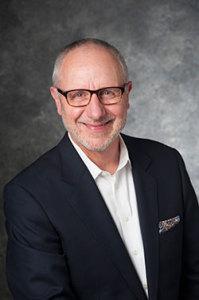 has been named dean of Meadows School of the Arts at SMU. He also will hold the school's Algur H. Meadows Chair. Holland has provided strong leadership to the Meadows School in both teaching and administrative roles for more than 20 years, and has been director of the Meadows School's Division of Music since 2010.He has served as Meadows dean ad interim since July 2014, following the departure of former dean José Antonio Bowen.
Said SMU President R. Gerald Turner,"Sam Holland brings experience and success not only in teaching and performing, but also in fundraising, external outreach and impact on his profession."
Holland joined the Meadows music faculty in 1991, initially serving as head of piano pedagogy and director of the Piano Preparatory Department. In subsequent years, his administrative positions in the Meadows School have included serving as head of the Department of Keyboard Studies and Pedagogy, associate chair and chair ad interim of the Division of Music and associate director for academic affairs of the Meadows School. His teaching at SMU has included piano pedagogy, studio piano, computers and keyboards, jazz piano and piano master classes.
Holland has alos been an active fundraiser. He worked with the Meadows development team to obtain more than $10 million in new giving for piano inventory and programs; renovation of practice facilities; and support for endowed scholarships, new endowed professorships and the ensemble-in-residence program.
Holland has extended the Meadows School's reach beyond the campus. He developed closer associations with the Dallas Symphony Orchestra and organized SMU student performances for civic events, such as the grand opening of the Winspear Opera House and groundbreaking for the George W. Bush Presidential Center. He developed and shepherded partnerships with community groups including Dallas Chamber Music, Voices of Change, Dallas Bach Society and the Allegro Guitar Society.
"I am deeply honored and tremendously excited by the opportunity to lead the Meadows School at this time in its history," Holland said. "After years of growth in the quality and reputation of its programs, Meadows is emerging as a national model for arts education in the 21st century. Considering the people at SMU and Meadows, an extraordinary executive board and the dynamism of Dallas, I can't help but be irrepressibly optimistic about the future. Great cultural centers have great schools nearby. Lincoln Center has Juilliard. Chicago has Northwestern. The Dallas Arts District has Meadows. In my view, the powerhouse schools of the next 25 years will be those in which fine and performing arts are working alongside cutting-edge communication arts – precisely the ingredients we celebrate at Meadows. At Meadows, we will create, communicate, curate, innovate and engage with this great city we call home. I'm looking forward to the journey."