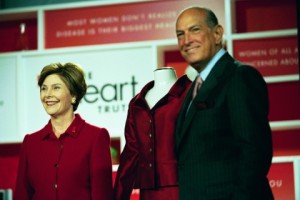 Only two weeks after the closing of Oscar de la Renta: Five Decades of Style at The George W. Bush Presidential Library on Dallas' SMU campus, the legendary fashion designer has died at the age of 82 from complications from cancer, reports The New York Times.
De la Renta was born in the Dominican Republic in 1932 and left for Madrid at the age of 18 to study painting. He decided instead to pursue fashion design, eventually working as an apprentice to Spain's most celebrated couturier. He became well known after he began designing dresses for Jacqueline Kennedy in the 1960s. When he launched his own line, de la Renta was a groundbreaker in the industry, as noted by The Washington Post: "He was the first Latino to be accepted into the exclusive ranks of Parisian fashion houses. Later as a U.S. citizen, he became the first American to design for a French couture house."
Although de la Renta was diagnosed with cancer in 2006, he showed few signs of slowing down. He presented his Spring 2015 collection at New York Fashion Week in September and designed the wedding gown for Amal Alamuddin's recent wedding to George Clooney.
De la Renta is survived by his second wife, the socialite Annette Engelhard de la Renta.
(Photo: Tina Hager/The George W. Bush Presidential Library.)