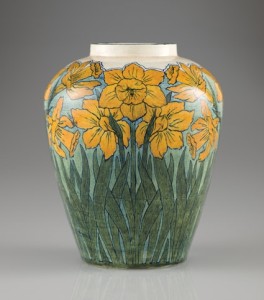 A very cool offshoot of the Arts and Crafts movement was the Newcomb Pottery collective and college in New Orleans, post Civil-War and lasting until the 1940s. It was centered around women and their betterment and enterprise, making primarily pottery, but also jewelry and textiles, and the one-of-a-kind pieces the collective produced are highly sought after by collectors.
A show of Newcomb pottery and other items will be on loan to the Stark Museum in Orange and opens September 20. According to the museum: "The exhibition offers new insights into the Newcomb community—the philosophy, the friendships, the craftsmanship, and the women who made an enduring mark on American art and industry." The exhibition was organized by the Newcomb Art Gallery and the Smithsonian. A rare opportunity to see a collection of such works in one place.
Women, Art and Social Change: The Newcomb Pottery Enterprise at the Stark Museum of Art, Orange, TX from Sept. 20 through Jan 3, 2015.
(Pictured: Newcomb vase, artist unknown, 1897.)
[Update 5/16/17: here's a list of botanical gardens that includes the Stark's Shangri-La garden and the Fort Worth and San Antonio botanical gardens, among others.]