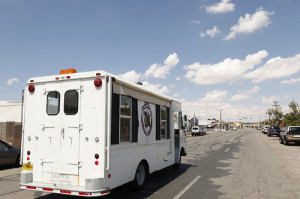 New works by six El Paso artists that have been funded by the City of El Paso's Artist Incubator Program, will debut at various El Paso venues in the next two weeks.
Visual artist Jesus Cimi Alvarado and composer performer Kiko Glen will team up for Corridos de El Paso, a set of original ballads and new paintings in the spirit of the original corridos, which told hard truths to the oppressed, on July 31, 7pm-10pm at Purple Pop-Up. On August 2, at 12 noon, Kiko Glenwill perform solo at Café Mayapan.
Sculptor Xochitl Rodriguez, will presents The Shell, works telling a story of survival, tragedy, adversity and destiny on August 2 from 7-9pm at 1500 N. Stanton.
Visual Artist Victor Muheddine's project, Qabee7 ("Ugly"), focuses on the vilification of Arabs in movies, cartoons and in the news media opens on August 4, from 4pm-10pm at 2226 Montana.
Visual Artist Ezequiel Zeque Pena will present WATERBOUND, a trans media project about the significance of water in a desert region on August 9, from 5-10pm at La Hacienda Restaurant, 1704 West Paisano.
Artist/Jeweler Criselda Lopez will display Viva-Cious-City – Representational Necklaces of the Sun City from August 8-29 inside Zig-Zag Tag, 369 Shadow Mountain Dr. Suite B.
Additionally, a project funded through last year's program, Peter Svarzbein's Conversos y Tacos Kosher Gourmet Trucks est. 1492, is traveling to New York this year.
The city's Museums and Cultural Affairs Department developed the Artist Incubator Program in 2011 to support the creation of new work by local artists. The program directly funds projects that promote awareness of the contribution that El Paso artists make in their community.