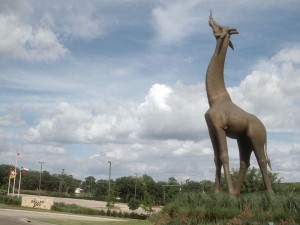 The Office of Cultural Affairs in Dallas is seeking applications from artists to take on the project of designing a new sculpture to reside near the big iconic bronze giraffe at the entrance of the Dallas Zoo. Like the giraffe, which is visible from I-35, the area earmarked for the piece is big, and there are no height restrictions.
The piece needs to be low maintenance (read: bronze or stone or the like; the giraffe is an amalgam of fiberglass and bronze), and reflect the zoo's mission: "Inspiring Passion for Nature and Conserving Wildlife," and act as a "way-finding" element for the entrance of the zoo. (My two cents: It would ideally aesthetically complement the giraffe in some way.)
The artist or group of artists applying need to have  experience with this kind of major public-art project, including the execution/production and installation. There is a $3,000 research and development budget to kick it off. The application deadline is August 8.
I suspect there are two reasons why OCA has opened this call to Texas artists. 1) It's a nice gesture and there are some artists here who could pull it off, and 2) the giraffe's creator, Bob Cassilly of St. Louis, died in 2011. The giraffe, at 67 and half feet tall, is the tallest statue in Texas, and was installed in 1997.
For the application, go here.
(photo: Dallas Culturemap)