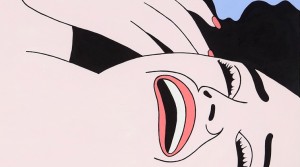 The Texas Contemporary Art Fair has announced some of its growing exhibitor list for 2014, which will be in its fourth season this September at Houston's George R. Brown Convention Center.
This art fair features mainly Texas galleries with a smattering of national galleries (and of course there's plenty of programming around the fair iteself).
So far there aren't a lot of surprises, which is not a bad thing.
Among Houston spaces that are reupping: Art Palace, David Shelton, Moody, and Inman. No word on fantastic non-profit Rice Gallery?
William Campbell makes the trip down from Fort Worth, and The Public Trust from Dallas.
Austin's Dutton is on the list but no word yet from Lora Reynolds, who attended last year.
From the two coasts so far: Rosamund Felsen from LA and Fredericks & Freiser from New York. No word yet on return visits from Mark Moore (LA) or Freight + Volume or DCKT out of NY. But it's early days.
(photo: John Wesley, Woman # 4, via Fredericks & Freiser and Texas Contemporary Art Fair)