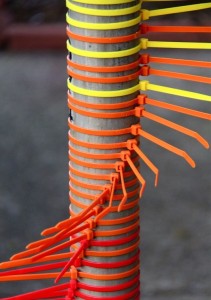 If you're an artist with a couple of extra hours on your hands today, you might just make the deadline: The City of Dallas Office of Cultural Affairs has put out a call for entries for artists to come up with ways to spruce up the city's parking meters, called "One Meter at a Time: A Temporary Public Art Project."
The Office of Cultural Affairs (paired with the police department) will select three artists for the project; the meter art will stay put somewhere between six months and a year. There is an honorarium.
The OCA states: "Using existing parking meters in three locations identified throughout Dallas, selected artists will be commissioned for 'creative interventions' such as decorative paint, removable graphics, or wrapping projects (i.e., yarn bombing or vinyl wraps) to enhance the exterior of parking meters."
Not surprisingly, the locations are downtown, Deep Ellum, and Oak Cliff. We wonder if the Dallas OCA was inspired by the art-on-city-hardware project going on in North Richland Hills.
So chop chop! Deadline is five p.m. today. Entry requirements and guidelines can be found here.
(photo: Virgina Jones, a meter in Alabama)