Optic Verve, Leslie Wilkes' current installation at Austin's Women and Their Work, is a collection of geometric paintings with a very psychedelic feel: playful, energetic, and a bit dizzying at first glance.
Viewing Wilkes' work online, I expected them to be dull, but was surprised at how much more rewarding the works were in person. I found myself getting lost in each of the large untitled canvases, absorbing color contrasts and angles that seemed harsh yet organic. The works took me back to a youthful fascination with colors and patterns, provoking a warm feeling.
The works' playful patterns become more sophisticated up close, where the paint strokes and the minor imperfections in the line work — all created freehand, without the use of masking tape — make the artist's hand apparent.
Just as distance from the work changed the experience, so did the viewing angle. It's very important to look at them straight on. As I sat on the gallery floor to write notes, my experience with the canvases became disorienting and overwhelming. Suddenly, the importance of symmetry in the works became clear; they were more inviting when I stood up, the angle where Wilkes' illusions work best. Viewed from below, the hypnotism breaks and the works suddenly become static and unappealing.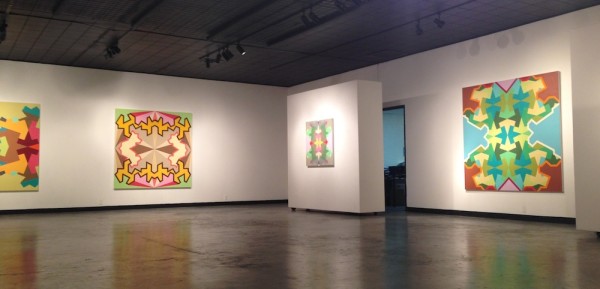 The smaller versions of the paintings in the foyer, done in charcoal and gouache, set a precedent for the robotic, symmetrical movement amongst the canvases in the main gallery. As you enter the large space, you recall the smaller works and the large canvases begin to interact in the same way.
Leslie Wilkes' Optic Verve can be both stellar and uncomfortable. Viewed from the correct angle, it's a harmonious exhibition: angles and lines come to life with implied movement.  But don't sit down!
Optic Verve is on view at Women And Their Work in Austin through May 18th.