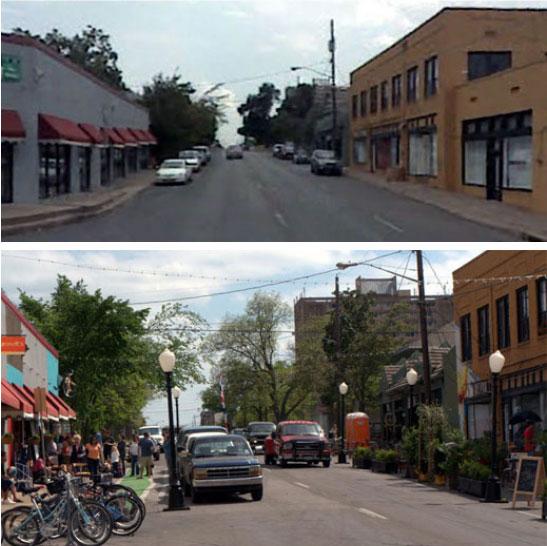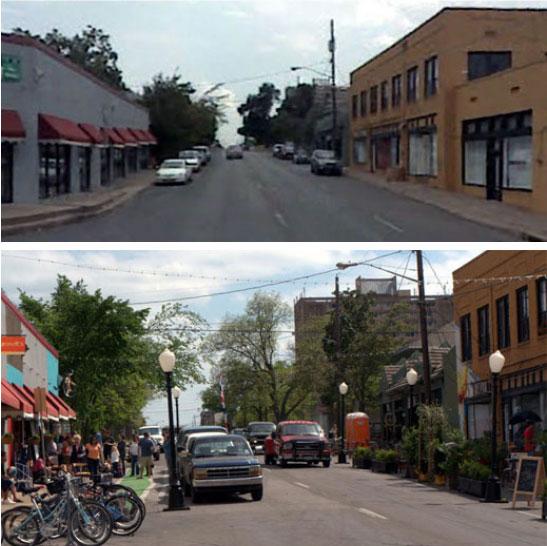 In light of the recent demolition of Rice University's Art Barn and the slated closure of UTD's Art Barn, it seems fitting to celebrate an organization that imagines that cities and community spaces can actually be improved by making use of the architecture that is already all around us. The urban planning organization called Better Block is basically a one-man show, run by Jason Roberts, a Dallas resident who wanted to transform his own neighborhood of Oak Cliff, and so began the initiative.
The "Better Block" project is a demonstration tool that rebuilds an area using grassroots efforts to show the potential to create a great walkable, vibrant neighborhood center. The project acts as a living charrette so that communities can actively engage in the "complete streets" build-out process and develop pop-up businesses to show the potential for revitalized economic activity in an area.
Better Block essentially employs a pop-up shop mentality on a grand scale–whole streets outfitted to be slower-paced, with cafes and places to idle, like shops and vendors. And it actually works, if Oak Cliff, which is one of the now most thriving and interesting parts of Dallas (and I'm not just saying that because I live there),  can be considered a testament to the strategy. Places like Oil and Cotton–an art education incubator and creative hub of excellence for all ages, and the brainchild of artists Kayli House Cusick and Shannon Driscoll–was born from an experiment in one of the first Better Block Dallas iterations. The event proved that people were hungry for a thoughtful, beautiful space of artistic engagement.
Since founding in 2010, Jason Roberts has taken the Better Block concept global, showing cities like Baton Rouge, LA and Australia how to make more vital public spaces.
This Sunday, April 27, Better Block celebrates four years of show-and-telling blighted urban spaces how to improve themselves with a hometown revival in Oak Cliff called "Better Block Cuatro." A vast swath of the neighborhood will be taken over by artists, curators, musicians and vendors to acknowledge the wonderful change that has already come about in the Dallas area and so many others, and push for even more.
Better Block Cuatro
Sunday, April 27
12 pm-10 pm