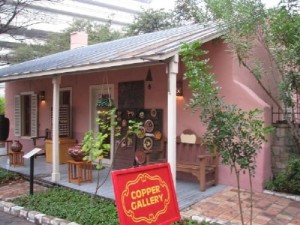 Some of the artists who work in the small historic arts village of La Villita, which is located in downtown San Antonio, have been there for decades. A new city initiative to revive the area, however, may push them out, Texas Public Radio reports.
City of San Antonio staff recently recommended plan that would force tenants in La Villita to re-apply for their spaces in the village. City staff says they want to preserve the village's authenticity, and they believe the village has lost its way, with many of the artisans producing crafts that can be found at any common retail chain. But artisans in the community claim it is just an effort to push the authentic artists out of the community:
"The city is very arbitrarily saying, 'Oh no, this building is not that kind of use, it's this kind of use over here. So because you're the tenant, you don't qualify so you have to leave,' " said one La Villita tenant Jack knight . "That's drawing a line in the sand in what I'm calling the slaughter of these tenants who are actually the lifeblood of La Villita."
The proposal is only a city staff recommendation, which means it is only the beginning of the conversation. But with stakes as high as determining the authenticity of any given artisanal trade at hand, this conversation is likely to heat up.