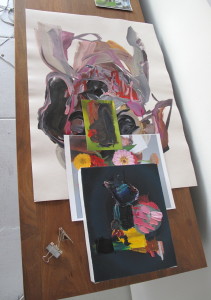 Raychael Stine's A Little Ways From Everywhere at Art Palace in Houston is irritatingly smart. Studded with riffs and teasers, the mostly painting show is really an installation full of clever visual puns. Portraits of little dogs, abstractions based on portraits of little dogs, photographs of paintings of little dogs, paintings quoting other paintings, with real life painting of little dogs on top. It's like she's picking a scab.
Joshua Fischer, in his recent New York Now roundup for Glasstire, called artists like Stine "no-one-style" painters, and it fits. Stine flirts with many disreputable lowbrow genres, willfully mixing and matching abstract illusionism, stodgy realism, trompe l'oeil, ab-ex calligraphy,  photography, and found objects. Her favorite shtick is overwriting smooth and clean with rough and dirty: photographs, careful renderings and smoothly gradated backgrounds are messed with juicy slathers in dachshund chocolate, muddy puce and fleshy pinks that give Art Palace's brightly-lit, antiseptic space a precious whiff of turds and cosmetics. John Waters' Divine would have loved it.
Like Waters, Stine goes to a lot of effort to be perverse. To say that her works are ugly is praise. Using ridiculous subject matter (cute dachshunds), grotesque fleshy colors, sexually suggestive props (furs and flowers) and nervous, arbitrary shifts between media and modes of representation, Stine aggressively dissects the conventions that other artists use as cushions and corsets. If her works have a fault, it's zeal; Stine's arm's-length approach to art makes her show cool and superficial, despite its expressionist messes and the cute doggies. The show fetishizes means: like a chromed custom-car engine, it's more show than go. Admirable for its conceptual gymnastics and painterly craft, it's work to appreciate, not to enjoy.
Double Lumpkin is the most enjoyable; slabs of impasto are piled into mounds that could be dogs or ice cream sundaes. The mauve backgrounds and leopardy spots have a dowdy glamour, like ancient dames in Cindy Sherman's society portraits.
In Vision 9, Stine trowels gobs of muddy paint over a smooth, gradated background, simulating the exaggerated spaces in close-up photographs. The abrupt contrasts of texture and space recall Gerhard Richter's painted-over photographs from the early 2000s.
In Black Shuck, Stine defaces a playful dachshund with a heavy black Groucho Marx mask. The playfulness of the dog is reiterated in the sloppy cartoon face. One doggie eyeball peeks through Groucho's moustache.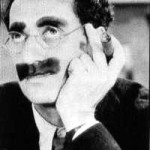 The show's only straight dog portrait is Berthilde. (After Jean-Dominique Ingres French. 1780-1876: Amédée-David, The Comte de Pastoret, 1823-26), named after a painting at the Chicago Art Institute. Aside from a green backgrounds, they don't have much in common, but the long title allows Stine to  show off her own art-historical pedigree in a half-joking parody of the tradition of giving show dogs lengthy, aristocratic-sounding names.
Big Pink Pickle, a monumental painting on paper, sums up the fascination and the futility of Stine's multi-layered illusionisms. A 12-foot pillar of writhing paint gestures forms a pink dog on its back, belly ready to be scratched. The long roll of paper curls out onto the gallery floor just like the dog's tail. Painting as object merges with painted representation. But wait! There's more.
Atop the paper, near the dog's right eye, is hung a tiny dog portrait. Squeegee-smeared like an early Gerhard Richter and framed by mauve border and a trompe l'oeil drop shadow, as if it were a painting quoted inside another painting (it's not—the central image is original, with the drop shadow added as a framing device afterwards.) Both the squeegeeing and the placement of the "ghost dog" make it seem like a thought or a memory, a recurring motif in the show: Vision 9, Moons for Moons, and Black Shuck all include small images as superscripts.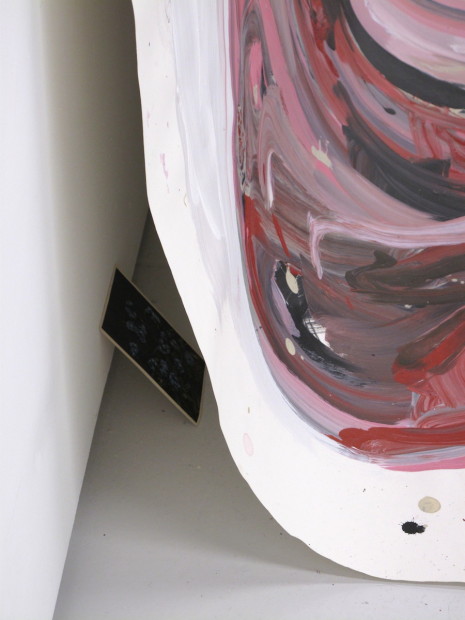 If that's not enough, two postcards are hidden in the gap between the curled paper and the wall. One is a reproduction of Raphaelle Peale's Venus Rising from the Sea—A Deception (After the Bath). Like Peale, Stine delights in teasing viewers with her technical proficiency, raking up and rehashing the many-flavored deceptions of the painted image.
Raychael Stine: A Little Ways Away From Everywhere will be on view at Art Palace through December 21.