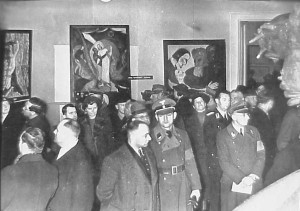 News broke yesterday that 1,500 artworks—paintings by Pablo Picasso, Henri Matisse, Marc Chagall, Max Beckmann, Paul Klee, Oskar Kokoschka—were found in an old man's Munich apartment in 2011. At least 300 paintings are thought to belong to a group of about 16,000 works declared "degenerate art," a term the Nazi regime used to describe nearly all modern art, but others are suspected to have been owned by Jewish collectors who were forced to leave their belongings behind when they fled.
Apparently, the reason news has only now come out of the discovery is due to a careful accounting and assessment by German customs and officials, but some Jewish groups have accused Germany of moral complicity in the two-year concealment of the found paintings.
The works were discovered in the meager apartment of Cornelius Gurlitt, son of Hildebrand Gurlitt, a specialist collector of the modern "degenerate" art. Nazi propaganda minister Joseph Goebbels recruited Gurlitt to sell the art abroad to try to earn cash for the state; Gurlitt bought some for himself, as well as from Jewish dealers who were forced to sell in desperation. The collection's value is estimated at over $1.3 billion.