There is a story that I like. It took place during the Civil War when that ball-less shit (just my opinion) General George B. McClellan wondered about the depth of a stream that blocked him and his army from advancing. In character, he continued to hesitate and puzzle aloud among his subordinates about how deep it was (I can imagine his progeny today, thumbing through their "Depth of Water" apps on their iPacifiers), until one of his underlings took it upon himself to simply dash into the water to find out.
"It's this deep, General."
That man was George Armstrong Custer. Say what you will about him, Custer was a man of action. This story takes place before he became General killing-Indians-just-for-the-fun-of-it-blood-sport Custer. And even though he was not much more than a ruthless peacock murderer, he at least could pick the winning side—until he ran into Crazy Horse, that is. (History never follows a rational trajectory. First one fights to free the slaves, then it's off to annihilate another race. Go figure.)
This story popped into my head while reading Dave Hickey's essay about his encounter with Peter Breugel the Elder's The Harvesters that he tells in his new book, Pirates and Farmers. I'm not saying that Dave appreciates Custer in any way. I have no idea. But the aforementioned Custer revelatory moment is a nice vignette and, for me, it has something quantitatively to do with Dave's recollections. Par example: When Dave wants to figure out The Harvesters, to begin to know it, he just takes out a ruler and measures it. Voilà! How simple! How brilliant! Quantity has a quality all its own! "Quel surprise, you silly fuck!" It's called looking, which leads to seeing. It's a razor sharp view, where winners win, losers lose, and nudes are naked.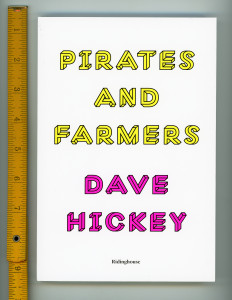 Pirates and Farmers is a masterful literary romp through episodes of Dave's life and it's one of the most enjoyable reads I've had in a long time. Things begin on the cover itself with title letters written in impossible object font. Right away the reader is alerted that there may be several ways of seeing things and that maybe none, or all, are true. It's not relativism. ("They call that a paradox." -Jack Nicholson as Frank Costello in The Departed) Survival of the species is not unserious, but that doesn't mean it can't be fun. And Dave has had his fair share of it.
Pirates and Farmers is dense, delicious, and dripping with "limos, homos, bimbos" and often in that "dazzled libido of shiny America"—Las Vegas. The stories are great, no doubt. But the writing is the thing, and no one tosses words together one after the other like Hickey. The mundane is transubstantiated through his text. Presuming you were there, how would you define the '70s, besides "sucking in"?  Dave's version is "Technicolor Cuisinart, whipping by." Now, I happen to have been at least partly there then, but obviously I was too young and doing the wrong drugs to see it that way. There are chances to take, lessons to be learned and Dave is all too gleeful to share, thank goodness.
The title suggests a thesis but it's an error to apply Occam's Razor to this book and force the Puritans v. Profane one on it. And it's unnecessary. But if one must, my guess is that Dave's contention is that we're living in a cultural Jurassic period right now where bean-size-brains (i.e. curators—"certified sleaze bags" and college professors) eat each other in jungles (biennials and universities) and, unless something drastic happens, those bean brains and jungles will be here a million years from now, and then ten million years from now, and then another ten… and nothing changes. Call it the Idiocene. If you think Dave is being cruel or that this is something new, consider the following:
"It must be acknowledged that in few civilizations of our time… have great artists, distinguished poets, or celebrated writers been more rare." -Alexis de Tocqueville, "Democracy in America,"1835-40
or
"… the mark of American merit in painting, in sculpture, in poetry, in fiction, in eloquence, seems to be a certain grace without grandeur, and itself not new but derivative, a vase of fair outline, but empty…"
-Ralph Waldo Emerson, address at Dartmouth, 1838
The more things change…
Dave is on the lookout for the next discontinuous cultural asteroid, the next Andy (for Dave, Andy Warhol is always just Andy) to wipe the slate clean and start all over. I happen to think that those discontinuities are here. They're here all right. Dave just can't see them yet and he'd be the first to admit it. They're in our midst but they thrive in the underbrush right now. They're little furry things but they'll get bigger. They always do. Present recessive creatures will figure out the path to survival and eventual dominance. With Pirates and Farmers, Dave has provided some shortcuts to explore outside of iCulture. Devour and digest Pirates and Farmers. After doing so, you will have discovered the coast is clearing.
Finally, getting back to action figures, Dave does admire another man of action—George Washington—and so do I. Changing history with a twitch is cool. But what most fail to acknowledge in today's everybody-gets-a-trophy loserism, is that Washington killed people. Not pretend, not allegory, not metaphor. He killed people. And he did it for a reason, and for reason, not to mention treason. This was a man, after all, who felt his own pulse as he died. How do you be brave? That's how.
No Sissies. No Dummies. Full Accountability. Bet Again.
When we're stalled in front of a big wall of cultural shit that impedes our path to the advancement of civilization, Dave charges in and says, "It's this deep, everyone."
See?
Pirates and Farmers, Dave Hickey, published by Ridinghouse, London, 2013.
Available everywhere.