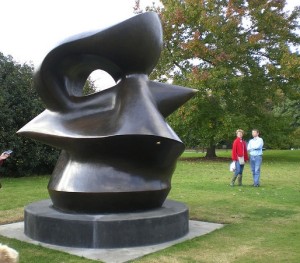 Houston Arts Foundation's Adopt-a-Monument program, a scheme in which area schools partner with corporate sponsors to "adopt" pieces of public art and raise money for their maintenance, has been recognized by the National Recreation and Parks Association, which is including a presentation on the penny-saving program for their upcoming Congress and Exposition, set to be held in Houston this fall.
"We've met with visiting municipal officials to discuss the Adopt-A-Monument Program a number of times," said HAF immediate past chair Sally Reynolds, "most recently with the Lord Mayor of Perth, Australia. It seems almost every large city is seeking additional ways to fund the conservation of public art. Making a presentation at the NRPA meeting here will bring this program to the attention of parks officials from all over the country. Parks, after all, are where most municipal art is located."
Spring Branch ISD's Bunker Hill Elementary, which partnered with Simmons & Co. International to adopt the Sam Houston Equestrian Statue in Hermann Park, and HISD's Mark Twain Elementary, which partnered with Amegy Bank and TyArt to adopt Henry Moore's Large Spindle Piece in Eleanor Tinsley Park, are currently participating in the program. They'll be joined by Berry Elementary and other schools this fall.