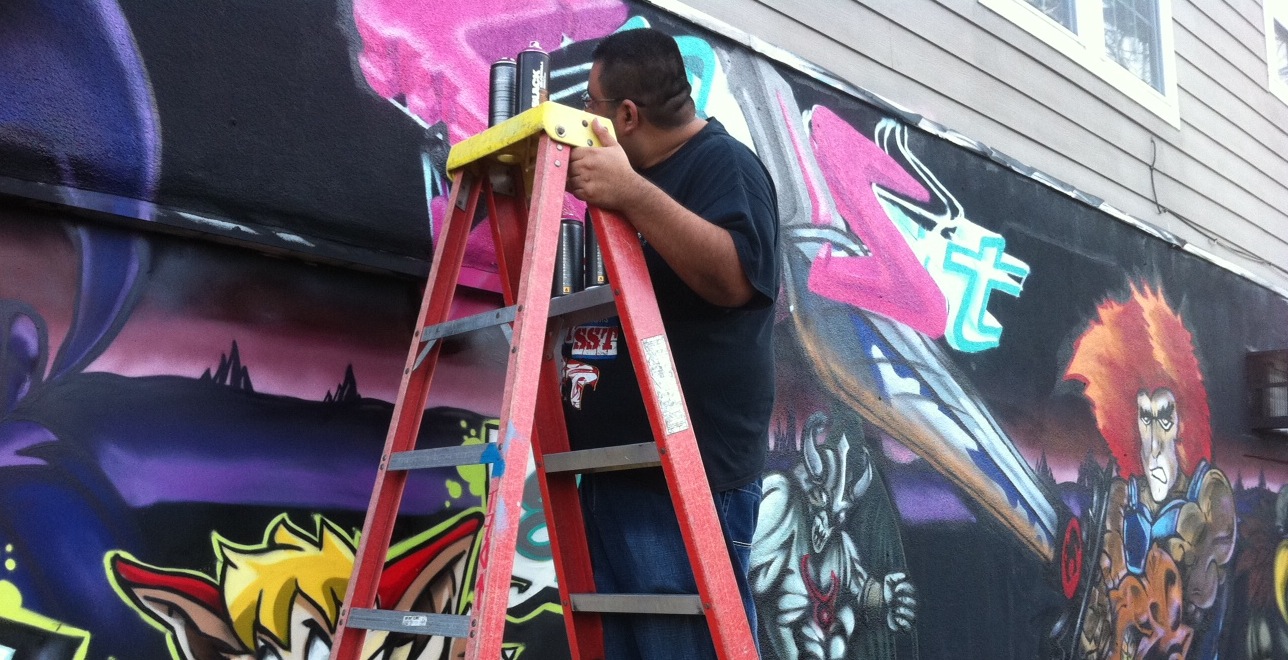 UP Art Studio, an artist-run space managed by Noah Quiles and Elia (Margaret) Quiles, is off the beaten path, a burst of energy and color located at N. Main St. and Aurora in Houston.  En route to the studios, I took a familiar detour off 45 North. I frequent the farmers markets, bakeries and seafood shops along Airline Drive that are clustered around its intersection with Aurora Street. The neighborhood is a mix of bustling commerce and quieter, residential streets –  perhaps not where you would expect such an energetic art space, which has a main gallery area, studio spaces for artists, and walls covered with murals and graffiti.
As I pulled up to the building just at the beginning of the opening reception, UP was already flooded with activity – street artists working away on the "Thundercans" mural located on the exterior of the building, and exhibiting artists and patrons conversing inside the exhibition space and on the lawn.
"Family Values" is an exhibition that features works by the Bernal family, a collective that includes graffiti and mixed-media artists Mike (Frost) Bernal, Jr., Erica Bernal-Cortez, Eric Bernal, Larry Bernal III, and Donald Ray Bernal. During the opening reception, I was fortunate to witness Mike (Frost) Bernal Jr. adding his marks to the "Thundercans" mural, a play on the iconic Thundercats cartoon from the 80s. He also had several works exhibited inside the gallery space.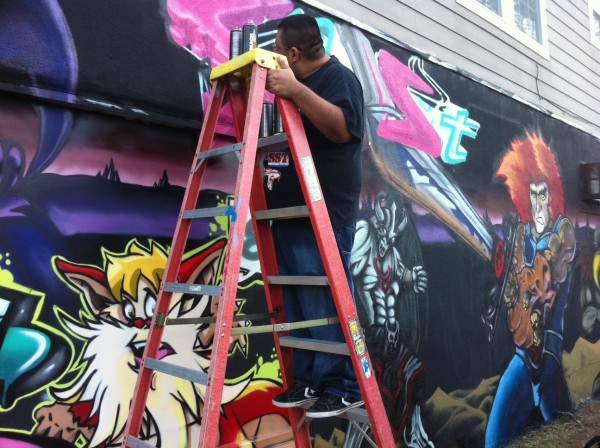 In addition to the Bernal family, other artists displayed ink illustrations, aerosol paintings, and a range of other media. I spoke with a young artist, Mauricio Patino, about his compositions on paper. He experiments with  materials such as rice paper and silk mounted on wood, and techniques including weaving, collage, and meticulous line work in ink.  Patino's abstractions reference imagined landscapes and organic forms. His intuitive drawing process results in layered, fantastical, delicate images.
Some of the artists included in "Family Values", such as Santiago Paez IV, were exhibiting in a gallery space for the first time. Paez's works feature precise freehand graphic images and clean lines, over boldly colored stenciled backgrounds. He references street-art techniques, but opts instead to create on canvas.
Mecos One (James) was one of the artists who worked on the mural that wrapped around the interior of the gallery space. In addition, he exhibited a range of drawings and illustrations that featured detailed line-work in ink.
As I left the opening reception, a group of artists hovered around Mike (Frost) Bernal as he worked on the exterior mural. The mood was one of reverence towards his work in progress, and of playful camaraderie.  The live painting and collaborative murals exemplified the ethos of UP Art Studio, with its focus on fostering an artistic community, and providing opportunities, space, and support for graffiti and street artists and their work.
Check out Family Values, on view through Saturday, March 30, with a closing reception at 6-10pm.
Exhibiting artists include The Bernal Family Collective, Luis Guzman, Sae One, Bryan Cope/Red, Mauricio Patino, Megan Thiede, Santiago Paez IV, Mecos One (James), and N3OR ON3R.
Muralists include Skitzo (Kevin Guerrero), Nice, Patrick "DiSe" Yates, and Noke.
Up Art Studio's next show, Reality Clash, opens on April 13.