Beyond the gallery section of the NCECA conference at the George R. Brown (see part 1 of this post for details) are pieces by the six featured artists of 2013.
The six 2013 Emerging Artists are:
Sunshine Cobb, who loves pots and focuses on function as the main feature of her work.
Lauren Gallaspy, inspired by her Southern roots and both their environment and cultural history.
Amber Ginsberg, who finds her artistic rhythm through collaborating with others and focusing on experienced history.
Brian R. Jones, the poetic intellectual who finds beauty in simple, awkward marks on clean and humbly shaped pieces.
Lindsay Pichaske, blurring the boundaries of species and humanity with mixed-media sculpture born of ceramics.
Linda Swanson, engaged in the wonder of creating and the relationship between the artist and the materials.
I had a chance to speak with Swanson, a Montreal artist. The piece that caught my eye the most was Oculus, comprised of glass, water and bentonite clay. The piece is built fresh each day. Swanson explores the properties of clay as the potter knows it: malleable, wet, expanding and contracting. She selected bentonite specifically for its property of expanding up to 15 times its original size when placed in water. The glass orb, with a steadily building landscape of bits of deconstructed clay falling from the billowy mound at the surface, creates an alien landscape that seems to draw in most everyone that walks by it.
What she feels truly distinguishes the medium is the ability to morph and transform, and that is being explored in Oculus. Swanson said she set out to reflect the experience of the artist with ceramics; the way the artist can watch and experience and experiment with how clay transforms. She sought to defamiliarize the clay for artists so that it is seen afresh and recapture the wonder that draws one to the calling of art.
In the Project Space, you'll get a chance to see these experiences in action and even participate for yourself: Beyond the featured artists ehhibition, an open circle of artists is creating temporary works built over the duration of the four-day event.
Going clockwise around the space, you'll first see Serotinous, a stretching entity of PVC pipe slowly being covered with clay, then white paint and then delicate coral-esque entities, as if an alien reef has washed ashore. Artist Jessica Riva Cooper is inspired by parasitic fungi and invasive species that change the molecules and DNA of their host environments. (This was a favorite for me! I guess I have a thing for the alien.)
Next is Justin Schortgen's Lifecycles, a hanging LED light display, the colors slowly shifting and changing within thrown lamps that seem to drip down from the ceiling panel.
David Katz's Colonization stretches across construction scaffolding, with wire masses growing, spreading and connecting among the scaffold bars. You can see the artist perched precariously in various stages, twisting and winding wire.
 Jessica Kreutter's Once We Lived Here features a domestic scene arranged of ready-mades she covers with clay doilies which in the spirit of impermanence cling, dry and decay into broken fragments.
Anastasia Gabriel and Elizabeth Head-Fischer's A Walk in the Park is a hands-on project where you can join in with molds, or by hand-sculpting pieces of nature-inspired debris to add to the growing forest floor and fallen logs. (Does anyone else suddenly find themselves remembering "Fred Penner's Place" on PBS?) And don't worry—a bucket and sponge is set up at the table for you to wash your hands afterward.
Another important aspect of NCECA is the trade show, and three new pieces of technology were creating a buzz: the Giffen Grip, the Ricoh printer and the Original Hi-Roller.
The Giffen Grip is a new innovation on the standard grippers that help to center a piece on the wheel for trimming. Normally, oblong or polygonal pieces with uneven sides would be very difficult to center. The Giffen Grip allows you to center the piece, then adjust the grips to  secure oddly shaped work on the wheel!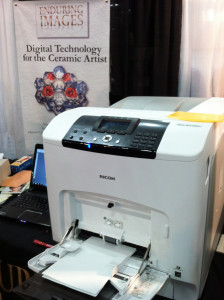 The Ricoh Printer is a European digital ceramic printer being sold in the U.S. by Enduring Images. This works with your computer like any desktop or office printer would, and you can print directly from any graphic software you may be using. However, this printer uses cartridges that contain ceramic pigments, not ink. Once printed, your image is pressed through a standard laminator to heat-set it, then it is applied as a water-based decal and fired in the kiln for a permanent high quality print that is also food safe. A variety of cartridges are offered to suit different firing temperatures.
The Original Hi-Roller is a favorite for me, mainly because as I spoke with the vendor, groups of people kept stopping to look with visible delight on their faces. This invention is a vertical slab roller which saves space in the studio. Gravity is now your friend in preparing clay slabs. It can stand on a base or be mounted to the wall to REALLY save space, and the product is reversible so can be used from either side. It also has all the old-school style of a Radio Flyer!