In what feels like a direct answer to detractors of Dallas' very centralized and compacted (and rarified) still-new Arts District, the Nasher Sculpture Center has made a major move toward the idea of accessibility and democracy in art. Of course it's the Nasher that's doing it, because the Nasher is the only major institution in this region that seems to be doing everything right these days.
The plan, called XChange (with the "X" standing for roman numeral ten) is a fascinating proposition that, if it works, could get the rest of the world looking at Dallas differently to how it does in the wake of, say, the Museum Tower fiasco. Dallas keeps growing after all, so more people means more culture, period. And the X means the tenth anniversary of the Nasher Sculpture Center itself.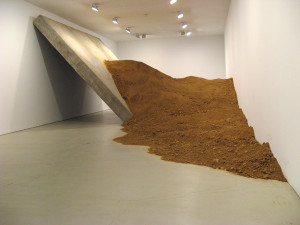 The press conference today at the Nasher was packed with bureaucrats, the press and their camera crews, curators and also a few academics, collectors, some dealers and some artists. It was a serious room—everyone, I think, kind of knew what was going down but no one knew any real details. The whole City Council was there. None of them hit one another, that I saw. The Dallas mayor, Mike Rawlings, gave a big speech. Then Jeremy Strick, with the help of a video presentation, laid it all out.
So, think Documenta in Kassel. But for the first time in history, an actual museum, in this case obviously the Nasher itself, has spearheaded a massive citywide public artworks initiative featuring international, regional and local art stars to create site-specific works to be installed in public spaces throughout the city of Dallas. Ten artists, ten pieces. It opens October 19, 2013, and closes February 16, 2014.
The list of artists includes some greats: Rachel Harrison of New York, Charles Long of LA, Houston's total rockstar Rick Lowe, DFW's own rockstars the Good/Bad Art Collective, Alfredo Jaar of NYC and others. For a full list, please see the link. The artists represent a great cross section of disciplines and viewpoints. The Nasher has thus far raised about $1 million from various sources and will continue to raise more. This is a big undertaking.
UTD is going to document the whole thing (bless them!) and no doubt there will be major Nasher programming around the works and artists. How the art history departments of the other universities around here haven't been totally on the ball with this is a little beyond me, considering it opens pretty soon, and that question was also, probably, on the minds of the other very few representatives of universities there. I wasn't even there as curator of TCU. I was there for Glasstire.
Nonetheless, it's an exciting development, and can only help Dallas' reputation as an art-friendly place. The mayor was careful to point out how much money the arts can generate in any city, which is what his council needs to hear over and over before they'll believe it.
As wonderful as it all sounds, how this initiative will actually play out should be interesting to watch: For instance, Rachel Harrison doesn't normally accept public work commissions. Good/Bad hasn't worked as a team in years. Some of the artists are having to do much of the work from as far away as the Netherlands or Switzerland. But this is great timing really, given the interior buzz of the art scene here, from the grassroots up. I'm really looking forward to it.
More more more. Merrier merrier merrier.