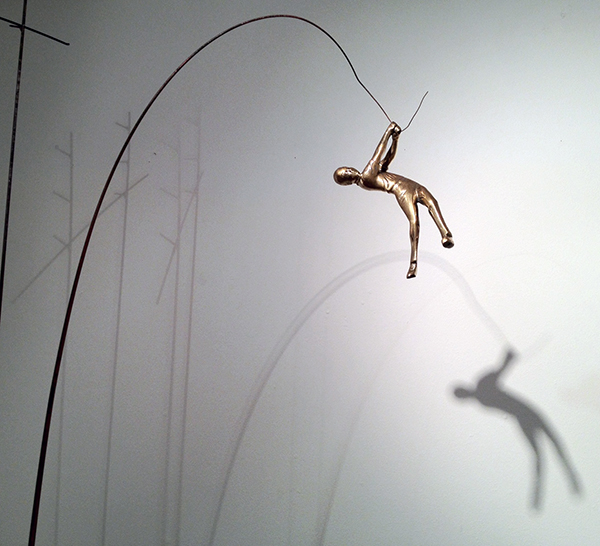 Art is often at its best when it's out of the ordinary. That's what makes  Marfa so alluring, or Amarillo's Cadillac Ranch. And while the Beeville Art Museum may not look so out of the ordinary, sitting, white and stately, on a well-kept lawn in a quiet neighborhood in Beeville, it has temporarily joined the ranks of these more unusual art attractions with a survey of works by Mark "Scrapdaddy" Bradford, an artist whose metal machinations have graced the Houston Art Car Parade and Museum as well as television shows like Battlebots and Junkyard Wars.
BAM is a place that uses its unique location to bring art and artists to a community that might not otherwise encounter them. (They've done solid, illuminating shows of Texas artists like Marilyn Lanfear, Sarah Green Reed and Richard Stout). But it doesn't mean BAM is immune from the challenges of building a bridge between the local community and a wide appreciation of work. It can be tough getting people in the door. People in smaller communities are sometimes just trying to take care of the basics of everyday life; the last thing anyone wants to do is spend time in someone else's self-absorbed dialogue about struggling to define their neuroses and how poststructuralism no longer informs their studio practice.
But this is an environment where crossover artists shine (outsider artist is not accurate, nor appropriate. Saltz supports me on this one) —  especially Bradford, who takes whatever is around him and turns it into something wild and experimental. Metal in Motion fills the BAM's indoor galleries and his metal creatures sit on BAM's lawn, making it unavoidably interesting to anyone driving by. As we walked around getting a preview of the show the other night, a full moon glared in the sky behind Mr. Green (Bradford's latest piece that won first place in the Houston Art Car Parade) and as it screamed, flamed and squeaked, it reminded me of why I've always felt that art installation is akin to setting up a spook house.
Bradford's work is somewhere between Tim Burton and Mad Max. All the pieces have figural, haunted-fairy-tale aspects with tribal, post-apocalyptic tinges. Tangles of wire and rubber and discarded forks and spoons make perfect scales on giant lizards and monsters that emit  flames and snap their jaws. These junkyard marionettes are operated often by multiple people, doing in metal and hydraulics what Nick Cave does with fabric and dance, perhaps. Some like Bradford's "art cars" more than his sculpture, others the opposite. For me, pieces that incorporate all of it — the sculptural, the mechanical and the magical are his best. And really, any melding of art and motorsports has me hooked, generally speaking.
Kids love this stuff. Moms love taking their kids to see stuff they love. Men generally like stuff that involves engineering, garage-tinkering and/or motor oil.  So it's really a win-win. Bradford's creative process, the way he thinks about pieces and parts and welds them together, is easy to access without too much talk. It translates to a wider public because it adapts to various contexts. I mean, how often is an art show covered on the local news? In Corpus Christi? (In Amarillo's case, maybe when a sex scandal is involved.)
In any event, seeing the work at BAM both inside and out gives the museum a well-deserved moment in the spotlight, presenting art that's a shade somewhere between a street parade, reality television, Burning Man, and a solo retrospective. His pieces exemplify the Texas "make-do idiom" and they help extend the reach of a well-run regional museum. It's worth a trip to see it all. As KIII-TV Corpus Christi's Joe Gazin (who typically covers hit-and-runs and city council dramas) had the rare occasion to say, it's "Pretty cool."
John Aäsp is Visual Arts Director at the Rockport Center for the Arts and Managing Director of the Rockport Film Festival. Other than writing, making art and electro-beepy music, John can't stop making excuses for his cats and his love for motorsports. He will be a visiting artist at UT,  Arlington this April.
Metal in Motion: Works by Mark Scrapdaddy Bradford  will be on display at the Beeville Art Museum through May 3.