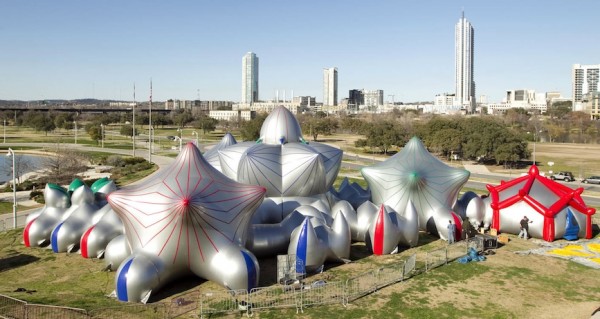 The City of El Paso is holding it's fifth annual Chalk the Block public art festival this weekend, beginning this evening at 6pm. The fest, running October 12 -14 in the El Paso Downtown Arts District features over 200 artists and is centered around 50+ chalk art murals created during the course of the festival.
This year, in addition to the chalksters, acrobats, and sausage-on-a-stick vendors, organizers have programmed several Pop-Up Galleries in vacant downtown storefronts, with a Gallery Crawl on opening night Friday, October 12th, from 7 – 10 pm, and a plateful of crowd-pleasing outdoor art, some respectable: Mirazozo Luminarium, a monumental inflatable sculpture by British artists Architects of Air; an interactive piece called Seed Pod, by Tucson artist collective Creative Machines; Woozy Blossom, by Manhattan artist, Matthew Geller; and local artist Adrian Esparza's Weaving Wall, composed of images from the Otis A. Aultman Historic Photography Archives.
Over 30,000 El Pasoans and tourists are expected.